Books for Thought is where I post a discussion topic related to books, reading, writing, or something pertaining to one of the three. I hope you'll join in, and discuss today's topic of
favourite lgbtqia+ novels
I have been quite forthcoming with my posts on LGBTQIA+ novels as of late (see: i, ii, iii, iv, v), but since it's Pride Month I thought I'd honour you all with yet another one *sunglasses emoji* This time, I wanted to focus on some of my favourite #ownvoices LGBTQIA+ titles. If you haven't heard of #ownvoices before, it means that the/a POV character in the book shares an identity (marginalised/minority) with the author. So, here are some of my favourite #ownvoices LGBTQIA+ books, and I hope you find some titles to read so you can celebrate Pride Month!
Peter Darling by Austin Chant
Everything about this book just makes me happy? The cover, the title, and most importantly the inside. I think reading this book will confirm to anyone that trans stories written by trans writers need to be published more often. Forget the cis hot takes on trans characters. Give the opportunity of writing trans characters to trans writers. Because that's the way it should be.
And if you need more convincing to read this book then let me say that the ship is delightful.
The Realm of Possibility by David Levithan (review)
This is my favourite David Levithan book. I read this book in one sitting, and then hugged it to my chest afterwards. It's told in an incredibly unique format, and the relationships between the characters were just gorgeous. Like, I can't recommend this book enough because it's really beautiful, and has stuck with me ever since I read it.
Huntress by Malinda Lo
I REALLY LOVE THIS BOOK, OKAY? I don't know why more people aren't reading it? High fantasy with a POC protagonist who is also a woman loving woman? And the romance is lovely? And it's an #ownvoices book? Come on, people! Read this book, please.
Gena/Finn by Hannah Moskowitz and Kat Helgeson (review)
Oh, the feels in this book are real. Honestly. It was an emotional rollercoaster of, well, emotions. There were adorable highs, and crash-burning lows. And through it all there was fandom and friendship. I absolutely adored the fact that Gena/Finn focussed on how important relationships made over the internet can be, and how much fandom can mean to you.
A Conjuring of Light by V.E. Schwab
Okay, so I should actually have put the first book here, but Rhy (our bisexual prince) doesn't have any POV chapters in that book, and A Conjuring of Light is my favourite of the whole trilogy. This series is so darn MAGICAL. And I absolutely loved it. The hype is deserved (for once). If you like magic, fantasy, incredible world building, characters you'll fall head over heels for, and ships you can set sail then the Shades of Magic books are 100% up your alley.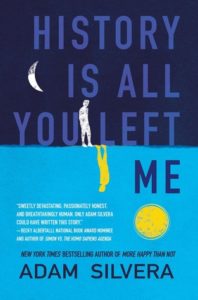 History Is All You Left Me by Adam Silvera (review)
Don't touch me.
I could just leave it at that, really. And perhaps it might entice you to read this freaking incredibly heartbreaking yet beautiful book. There is so much to love about History. But most of all is how very real the characters felt. How much Theo's pain becomes your pain, and how much you want to grab him and hug him and help him through everything. History is hands down one of my favourite books of 2017 so far, and I urge you to read it ASAP.

What about you? What are some #ownvoices LGBTQIA+ books you've read and loved? Are you going to add any of these to your TBR? Are you reading LGBTQIA+ books for Pride Month?

Posted on: June 6, 2017 • By: Chiara