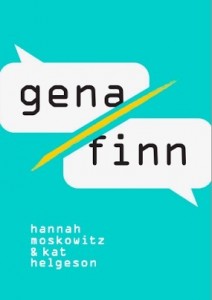 What: Gena/Finn by Hannah Moskowitz & Kat Helgeson
Who: Chronicle Books LLC
When: April 5th 2016
How: A copy of this novel was provided by Chronicle Books for review via Edelweiss.
The story follows the unlikely friendship of two young women forged via fan fiction and message boards, and is told entirely in texts, chats, and blog posts.

Gena (short for Genevieve) and Finn (short for Stephanie) have little in common. Book-smart Gena is preparing to leave her posh boarding school for college; down-to-earth Finn is a twenty-something struggling to make ends meet in the big city. Gena's romantic life is a series of reluctant one-night-stands; Finn is making a go of it with long-term boyfriend Charlie. But they share a passion for Up Below, a buddy cop TV show with a cult fan following. Gena is a darling of the fangirl scene, keeping a popular blog and writing fan fiction. Finn's online life is a secret, even from Charlie. The pair spark an unlikely online friendship that deepens quickly (so quickly it scares them both), and as their individual "real" lives begin to fall apart, they increasingly seek shelter online, and with each other.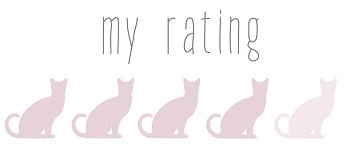 Gena/Finn is the story of two girls who meet online via their mutual love for a TV show (called Up Below, which REALLY reminded me of Supernatural because it's about two guys and their extreme devotion to each other and their willingness to do anything for the other – you see what I mean).
It was absolutely fucking brilliant to read about this, because I have made some of my best friends on the internet, through book blogging and fandom. And to see this portrayed in a book – to see something that is such a huge part of my life and who I am – was beautiful. Seriously. The mentions of fandom and fanfic and fanart (even though I don't make it, I appreciate it) were like vegan chicken soup for my soul. I didn't know how much I needed a book that wrote about that part of me until I read Gena/Finn.
Gena and Finn kind of form this extreme bond with each other, and they also kind of fall in love. And this is where a little bit of disappointment on my side came in. Because there's this massive build-up of their relationship, and I was wondering if they were going to get together. If Finn was going to break up with her boyfriend, Charlie, to be with Gena. Because the way she referenced Gena and wrote about her were really intense. She even says she loves her. And then this ~thing~ happens, and it just … stops. Finn becomes this kind of mother/best friend figure to Gena, and the love that I thought was there between them just kind of … disappears.
Highlight for a spoiler: And, at the end, Finn says she's going to marry Charlie, and Gena finds this super sweet guy friend that she's kind of having romantic thoughts about. Which was disappointing as all hell.
I feel like there needed to be more exploration of their sexualities. I mean … were they both bi? Was Finn actually in love with Gena? Was Gena even in love with Finn? I know it would have been hard to REALLY explore this because of the way the story was written, but it was never touched on at all. I wanted there to be more discussion, I wanted there to be more exploration. I felt like the queer aspect of this book was kind of … not there at all, really.
But literally everything else was lovely, which is why I still adore this book, even though the queer aspect let me down. I teared up so many times, and I wanted both of these girls to get their happily ever afters. The way they cared about each other, romantic or not, was incredibly real and beautiful and heartbreaking.
I also really want to read Gena/Finn again, because my e-ARC's formatting was royally screwed (and missing all the art), and I want to read it the way it was meant to be read.
If you're looking for a book about fandom, how online friends can mean the world to you, and how one thing can change the course of your entire life … reader, meet Gena/Finn. Gena/Finn, meet reader.
© 2016, Chiara @ Books for a Delicate Eternity. All rights reserved.
trigger warning: death by fire/explosion, use of psychotropic medication (prescribed), self harm, and absent parents in this novel

Posted on: April 6, 2016 • By: Chiara