In an effort to share more of myself with you guys I created Books for Life. I talk about my life outside of this sanctuary called the blogosphere. Hopefully you guys like getting to know the girl behind the blog a little bit more.

I know that it's nearly halfway through the first month of 2017, but I didn't want to miss out on sharing what my favourite books of 2016 were! So here we are.
2016 was actually a pretty fruitful year in terms of me loving books. There were some mighty disappointments in the midst, but I still ended up falling in love with quite a lot of books, which makes me so happy! So, without any more rambling on my behalf, my favourite books of 2016 were:
Dangerous Girls by completely blew me away this year! I can't believe I waited so long to read this badass book. The mystery had me changing my mind every few pages, and that ending blew me away. Let's not forget the bi rep in this book, please.
So Huntress was one of my favourite books of 2016, not Ash, but since I don't own a copy of Huntress, this picture will have to do. Huntress was an epic fantasy adventure with a sweet and shippable f/f romance at its heart and I don't know why people aren't screaming about this book because it's 100% deserving.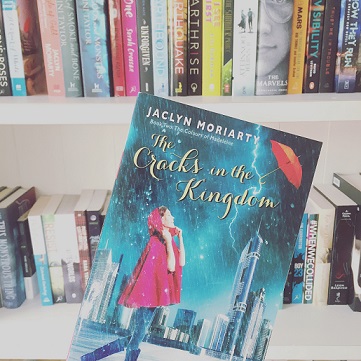 To be honest I adored the entire The Colours of Madeleine trilogy, but The Cracks in the Kingdom really just stood out as the most perfect in the series. My ship actually became a ship in this book, and Elliot Baranksi cemented his perfection.
The Summer of Chasing Mermaids was a beautiful and unexpected surprise. I loved so much about this book, from the diversity to the romance to everything in between.
No favourites list would ever be complete without C.S. Pacat on it, right? Kings Rising was probably THE most perfect book I read in 2016. It was everything I could have possibly hoped for in the conclusion to one of my favourite series of all time.
HELLO, NEW FAVOURITE BOOK. I knew from the moment I heard about Timekeeper that it would be a ~me~ book so it's no real surprise that this gay steampunk novel captured my heart.
P Y N C H IS C A N O N. And the rest of The Raven King was pretty good, too. But, come on, Pynch was the best part, let's be real.
Let me book push Introducing Teddy on you because you need this book in your life. I've flailed about it a few times but hopefully that just means that you're closer to listening to me and buying this book.
I didn't expect to fall in love with this book as much as I did. But from page one And I Darken was going to be one of my favourites of 2016. Everything about it was amazing. The politics, the characters, the world building. Everything.

And there we have it! My faves of 2016. What were some of your favourite books of last year?

Posted on: January 10, 2017 • By: Chiara