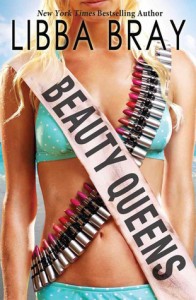 What: Beauty Queens by Libba Bray
Who: Allen & Unwin
When: June 1st 2011
How: Purchased.
Rating: ★ ★ ★
Beauty Queens was really … weird. It took me a while to get into it, and there was a moment or two when I considered DNFing. But I had heard so many good things about it, I thought there must be a reason to keep reading.
And there was. And that was the diversity. Compared to the majority of YA books out there, the diversity in Beauty Queens was pretty on point. There was a lesbian character, a bisexual character (although I don't really agree with how this character's sexuality was portrayed), and a trans character (Petra, my darling). It's always great to see one LGBTQIA+ MC in a book, let alone three. So all the diversity points to Beauty Queens.
Sometimes the satirical humour was lost on me, and I think there were two reasons for this. The first is that it is very hard to make me laugh in a book (or movie, for that matter). The second is that the critique of women/girl beauty standards were not new to me. I am very critical of the fact that the world presents women and girls with a certain picture, and expects us all to live up to it. So it wasn't eye-opening or new for me. I certainly appreciated it, but I felt like some of it was lost on me because I am already so aware of this aspect of our society.
Overall, I did enjoy Beauty Queens, but I was left a little bit wanting after hearing so many wonderful things about it.
trigger warning: Racism, transphobia, fatphobia, plane crash causing death, sexism, abduction, physical assault, and murder in this novel (there are a lot of trigger warnings for this book because of its satirical tone, so i may have missed some)
What: Dangerous Girls by Abigail Haas
Who: Simon & Schuster UK
When: August 1st 2013
How: Gifted.
Rating: ★ ★ ★ ★ ★
I had heard pretty darn amazing things about Dangerous Girls, so I was more than a little excited to read it. But also a little scared because sometimes the hype gets to me, and I end up not liking a book because of high expectations. But I'm happy to say that I LOVED Dangerous Girls. It was everything I wanted, and more.
It was everything I wanted because I wanted a creepy murder mystery. And Dangerous Girls was hella creepy, and had me second guessing every character when it came to trying to figure out who the killer was.
It was more because there was an f/f romance *cheering* Literally NO ONE has mentioned the fact that Anna and Elise were in love (which was proven on many occasions, don't even try to deny it), but I guess that's a discussion for another day. It made me so happy to see a bisexual character at the helm of this novel, and an incredibly messed up and interesting m/f/f love triangle at its heart.
If you're unsure about whether to read Dangerous Girls, it's fabulous. What everyone says is true.
trigger warning: murder, excessive drug use, stalking, death of a parent by cancer, romantic cheating, bullying, and physical assault in this novel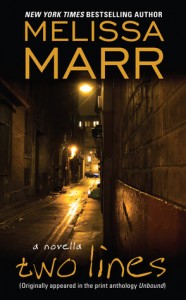 What: Two Lines by Melissa Marr
Who: HarperCollins e-books
When: August 23rd 2011
How: Purchased.
Rating: ★ ★ ★
Yet another book where a bisexual character is erased from every review. Eavan is interested in both guys and girls, and I just want to shout that from the rooftops because EAVAN IS BI AND THIS BOOK IS LGBTQIA+ AND STOP WITH BOTH THE LGBTQIA+ ERASURE IN GENERAL, AND ALSO THE BI ERASURE.
I felt like I could have read an entire novel about Eavan, and the storyline of Two Lines. I feel like there could have been so much more to explore, especially in terms of her relationships. The ending was incredibly abrupt, and I felt like I had just gotten settled into the story, and was waiting for a lot of stuff to happen, and then it was just finished.
It was interesting to read about a mythological creature I didn't know much about, and Eavan's struggle between her human/mortal side and her glaistig/immortal side was one of the best aspects of this novella.
trigger warning: murder, forced drug use, sex slavery, domestic abuse, and sexual assault in this novel

Posted on: March 29, 2016 • By: Chiara