I love movies just about as much as I love books, and I watch a lot of them each and every month. Movie of the Month is my way of sharing the best movie I saw each month with you, my lovely readers <3 I hope you find some awesome films to watch!
Movie of the Month: November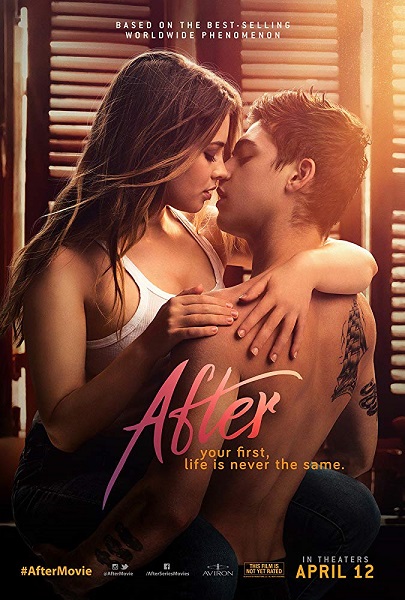 (source)
I was not expecting much from After AT ALL. I don't even know very much about the book but when I saw it was being made into a movie I was interested because I like romantic movies *sunglasses emoji* I put a hold on it at the library and even when I went to pick it up I wasn't particularly excited.
But then I watched it and ended up really liking it, even after harshly judging the beginning and the casting and every little thing. But eventually I just let those things go and enjoyed the movie for what it was. In the end I liked a lot about this movie. I have thought about reading the books but apparently they changed a lot of the love interest's behaviour to be less creepy and gross. So I'm not sure I want to read it.
But what I WILL be doing is watching all the sequel movies :D
December
(source)
This one surprised me even more than After. I vividly remember watching the trailer for this and being like: yeah, I'll watch it just as something to fill the time. Ohmygod Tolkien was so much more than something to just fill the time with. This is one of my favourite movies of 2019 not just December. Tolkien was absolutely stunning from the moment it started in a small field-side village in England to where it finished in that same place. Everything about this movie was beautiful and I was riveted the entire time.
Just like you read books quickly when you love them I feel like I watched Tolkien quickly, even though that makes no sense. But I know I want to go back and rewatch it so I'm not stunned by how breathtaking it is. So I can take everything in slowly. And fall in love all over again. Even if you've never read or watched a Tolkien story, I would urge you to give this movie a go. It's incredibly special.

So these are the best films I watched in November and December! Have you seen them? Have I convinced you to give them a go? What were the best movies you watched in November and December?

Ta ta for now,

Posted on: January 7, 2020 • By: Chiara