Books for Mail is basically me showcasing my addiction to buying books. Every two weeks, I'll show you guys which books I have bought/received, and hopefully you'll find some great titles!
In My Mailbox:

Okay, so last Sunday I went to a secondhand book fair, where I promised myself that I would only buy books that amounted to the cash I had on me. I had $47, and I spent $46. Booyeah.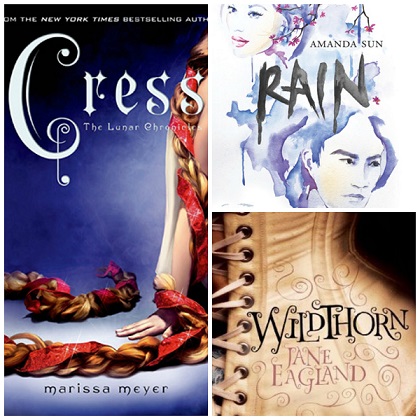 Cress by Marissa Meyer: As Jeann and I were leaving the book fair, she saw this and snatched it up for me! I still have yet to read it, and now I can get onto it, pronto.
Rain by Amanda Sun: I haven't read the first in this series, but this book was only $5 AND it's a new release. I couldn't resist.
Wildthorn by Jane Eagland: I rented this from the library years ago, and never got around to reading it. And I recently found out it was LGBT+ so I am really excited about reading it :D
I also got some books that I have read but didn't yet own, like The Moth Diaries, and some of Meg Cabot's Mediator series in their original format (the pretty cartoon ones). I also got the complete series of My So-Called Life! And all of this was only $46.
So technically I broke my ban of one book per month, but I knew this fair was coming up when I made that resolution, so I exempted it. Plus, the ban pretty much only applies to new books. (At least that's what I'll tell myself.)


Simply Sunday is a reading meme run here at Books for a Delicate Eternity. It's where you can share your favourite quote of the week; be it from a book, a novella, a short story, a poem, a song – whatever you like!
My Simple Thing:
"The way I feel about him is like a heartbeat — soft and persistent, underlying everything."
A quote from Becky Albertalli (Simon v.s the Homo Sapiens Agenda).
Why I Chose It:
This entire book is just one gorgeous quote. I loved every minute of reading it, and I cannot wait to share my review with you guys. I especially liked this quote, because I have felt that way before. And the way Becky captured it is so beautiful.

What books did you receive in the mail recently? What do you think of my Simply Sunday?

Posted on: February 1, 2015 • By: Chiara