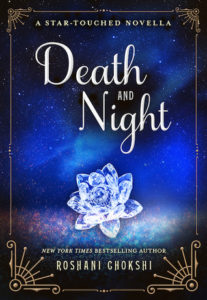 What: Death and Night (The Star-Touched Queen #0.5) by Roshani Chokshi
Who: St. Martin's Griffin
When: May 2nd 2017
How: A copy of this novel was provided by St. Martin's Press for review via NetGalley.
Before The Star-Touched Queen there was only Death and Night.

He was Lord of Death, cursed never to love. She was Night incarnate, destined to stay alone. After a chance meeting, they wonder if, perhaps, they could be meant for more. But danger crouches in their paths, and the choices they make will set them on a journey that will span lifetimes.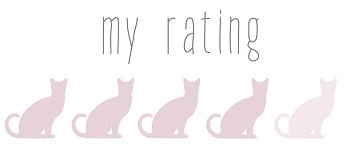 I was incredibly excited when I learned that Death and Night was going to be a released. I absolutely loved both The Star-Touched Queen and A Crown of Wishes, and I couldn't wait to read more of the world of the series, and in particular the past of Maya and Amar from The Star-Touched Queen.
I'm entirely unsurprised by the fact that I loved Death and Night. I have loved every single word of Roshani Chokshi's that I have ever read, and I don't think that will ever change. She is hands down one of my favourite authors, and I cannot wait to read whatever wonderful stories she brings into this world.
One of the reasons why I love The Star-Touched Queen series so much is because of the romance. I love me a good romance, and Chokshi knows how to write them. I fell head over heels for Vikram in A Crown of Wishes, and I adored Maya and Amar as a ship in The Star-Touched Queen. I'm incredibly happy to say that Death and Night didn't fail me in the romance aspect. I swooned, I sighed, I fell in love with Amar and Night's love. I was extremely glad that this novella wasn't a 20 page one, but in fact 115 pages long, because I felt like I really got to know the characters and their feelings.
The beginning was a tad confusing because there's a lot that Amar doesn't express about the curse but it was revealed later on, which made up for it. Speaking of Amar, I feel like he was a lot sassier in Death and Night than The Star-Touched Queen, which I liked. It didn't take away from his moody and broody attitude, which is one of the reasons I liked him so much to begin with, and instead added an extra layer of characterisation.
As with all of Chokshi's work that I have read the words in Death and Night were lyrical and gorgeous. It was easy to tell the difference between Amar's POV chapters and Night's POV chapters, which I always appreciate in multiple POV books, especially when they're in first person. There was also this lovely storytelling aspect to both of the POVs, which added a really nice touch to it. It felt like Amar and Night were both sitting down and telling me about how they met and fell in love.
Reading Death and Night, and learning so much more about the characters and their pasts immediately made me want to go back and re-read The Star-Touched Queen. Now that I know more I feel like The Star-Touched Queen will be even more beautiful than it was the first time.
Overall, I really enjoyed Death and Night, and if you liked The Star-Touched Queen and want more from the world of the series then I say that you definitely need to get your hands on a copy of this gorgeous novella.
© 2017, Chiara @ Books for a Delicate Eternity. All rights reserved.
trigger warning: death themes, use of ableist language, death of a husband, reference to death via childbirth and at war, absent mother, and ableism in this novel

Posted on: May 26, 2017 • By: Chiara