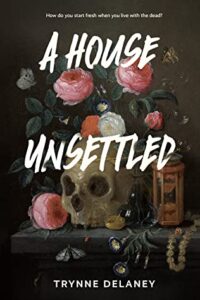 What: A House Unsettled by Trynne Delaney
Who: Annick Press
When: October 11th 2022
How: A copy of this novel was provided by the publisher review.
"Who built this house? Whose money? Whose blood?"

Ghosts aren't the only thing that can haunt a house. Trynne Delaney's debut novel explores the insidious legacies of violence and oppression—and how Black, queer love and resistance can disrupt them.

With her dad's incarceration, escalating fights with her mom, and an overbearing stepdad she's not sure she can trust, Asha is desperate for the fresh start promised by a move to the country. Her great aunt Aggie's crumbling, pest-ridden house isn't exactly what she had in mind, but the immediate connection she makes with her new neighbor Cole seems like a good sign. Soon, though, Asha's optimism is shadowed by strange and disturbing occurrences within the old house's walls: footsteps stalking the halls; a persistent chill; cold hands around her neck in the middle of the night . . .

Fearing for her loved ones' safety—and her own—Asha seeks out the source of these terrifying incidents and uncovers secrets from the past that connect her and Cole's families and reach into the present. But as tensions with her mom and stepdad rise and Cole withdraws, Asha is left alone to try and break the cycle of violence that holds them all in its haunting grip.

A House Unsettled is a contemporary with a dash of horror, even though the synopsis and cover have definite horror vibes. I went in expecting 100% haunted house shenanigans, but a lot of the book was about the main character's life, haunted house notwithstanding.
Asha is biracial (her mum is white and her dad is Black) and has just moved to her great aunt's rundown old house for a "fresh start" after her dad was convicted of embezzling money from the organisation he worked for. Whether or not he is actually guilty is something Asha doesn't know and struggles with, and this puts a strain on her relationship with him. On top of that, Asha's mum's boyfriend is moving in with them, and Asha knows that he's cheated on her mum. A lot of A House Unsettled is about these things. Asha's strained relationship with her mother, living with her after only visiting her sporadically over the last few years, adjusting to a new town, and living with the boyfriend who she severely dislikes.
Sprinkled in here are tidbits about the great aunt, her creepy husband, and her queer lover – who bears an uncanny resemblance to Asha's next-door neighbour and crush, Cole (who is non-binary). I really liked the inclusion of queerness in this novel, both historical – to show queer people have always existed – and modern, with Asha questioning her queerness. Questioning rep is so important, and I love seeing it in YA books.
One thing I would have liked to see in the book was better pacing. For the first 80% or so the book is mostly contemporary with a sprinkle here and there of paranormal spookiness. The real haunting and horror aspects didn't really come into play until toward the end, and by then it felt a bit out of place and too rushed when it came to the conclusion. Everything happened a little too easily and I would have liked to see more build-up.
There were also important conversations in this book about the colonisation of Canada, historical and modern racism, how the justice system and the police treat Black people, and privilege. Many of these tied into both Asha and Cole's lives, and sometimes they didn't recognise the way these things had pivotal roles in both their lives in different ways.
All in all, A House Unsettled was a good book. I would have loved the horror aspect to be more woven into the storyline but even so I did enjoy the elements that were included. If you're looking for a light YA horror with discussion and recognition of real-world topics and issues then add A House Unsettled to your TBR.
© 2022, Chiara @ Books for a Delicate Eternity. All rights reserved.
trigger warning

romantic cheating, animal death (off page), racism, grief, murder (past), incarcerated parent, death themes, attempted murder

Posted on: August 7, 2022 • By: Chiara