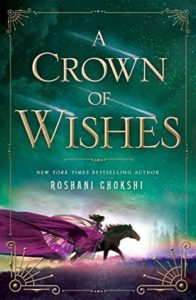 What: A Crown of Wishes (The Star-Touched Queen #2) by Roshani Chokshi
Who: St Martin's Griffin
When: March 28th 2017
How: A copy of this novel was provided by St Martin's Press for review via NetGalley.
Gauri, the princess of Bharata, has been taken as a prisoner of war by her kingdom's enemies. Faced with a future of exile and scorn, Gauri has nothing left to lose. Hope unexpectedly comes in the form of Vikram, the cunning prince of a neighboring land and her sworn enemy kingdom. Unsatisfied with becoming a mere puppet king, Vikram offers Gauri a chance to win back her kingdom in exchange for her battle prowess. Together, they'll have to set aside their differences and team up to win the Tournament of Wishes—a competition held in a mythical city where the Lord of Wealth promises a wish to the victor.

Reaching the tournament is just the beginning. Once they arrive, danger takes on new shapes: poisonous courtesans and mischievous story birds, a feast of fears and twisted fairy revels.

Every which way they turn new trials will test their wit and strength. But what Gauri and Vikram will soon discover is that there's nothing more dangerous than what they most desire.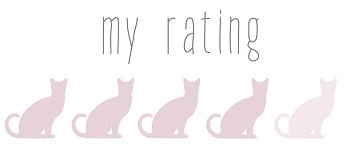 I absolutely loved The Star-Touched Queen. It was magical and lyrical, and pretty much everything I always want in a book. So when I knew that there was going to be a sequel about Maya's sister, Gauri, I was excited to say the least.
You know, I think I loved A Crown of Wishes perhaps even a tad more than The Star-Touched Queen because of Vikram. I adored Vikram. And I loved that there were chapters from his POV because it allowed me as a reader to get to know him beyond Gauri's interpretation of him as a companion and love interest. He was a mix of sassy and sweet, which is pretty much the perfect combination, okay? His one-liners were amazing. I don't know how Gauri resisted for so long because I was swept off my feet practically the moment he was introduced *swoons*
The writing style in A Crown of Wishes was quite different to its predecessor, but no less lovely. There were still beautiful, lyrical passages, but since this was from Gauri's POV the changes made sense. She's not as whimsical as Maya, and she's hardened a lot because of the treatment of her brother. I loved her. She was a badass heroine without being an emotionless ice statue. She cares about people, and her kingdom, and her sister. She is great with knives, but she isn't always so great with being honest about her feelings but she has feelings and she acknowledges them and feels them. And I just loved seeing a badass character who didn't rely on being soulless and ruthless to be badass.
I was intrigued by the storyline, and I absolutely know that I am going to read this book again. Because I flew through it there were probably things that I missed and I have a feeling that A Crown of Wishes is the type of book that will stand the test of a re-read (which is quite a feat, really).
There were a quite lot of lovely side characters, and side stories, as well. One of my favourite side characters was the vetala. I thought he was hilarious and he kind of reminded me of Kamala, which is high praise because Kamala is my everything. I also really loved Aasha, who actually has a few POV chapters. She was 100% not straight because when she was talking about kissing she said that she'd kiss a girl or a boy and can we just shout from the rooftops about this, please? I really, really want Aasha's book because I feel like there is so much to read about her and her life, and a queer story from Roshani Chokshi would be out of this world amazing. Also a quick shout out to the Serpent King because reasons.
I don't even really have much more to say about this book because its twists and turns are something that you should have no idea of when reading it. I highly recommend A Crown of Wishes to anyone who loves YA fantasy because this is going to become a staple in the genre, I can tell.
© 2017, Chiara @ Books for a Delicate Eternity. All rights reserved.
trigger warning: death of a parent via fall (explicit aftermath), depictions of gore, use of ableist language, attempted rape, reference to rape, reference to suicide, reference to self harm, emotional abuse, death of a parent, attempted murder, physical assault, and murder in this novel

Posted on: April 14, 2017 • By: Chiara