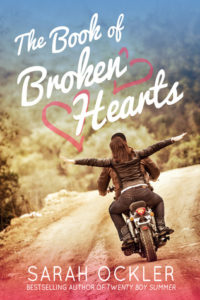 What: The Book of Broken Hearts by Sarah Ockler
Who: N/A
When: March 23rd 2016
How: A copy of this novel was provided by the author for review.
When all signs point to heartbreak, can love still be a rule of the road? A poignant and romantic novel from the author of Bittersweet and Twenty Boy Summer.

Jude has learned a lot from her older sisters, but the most important thing is this: The Vargas brothers are notorious heartbreakers. She's seen the tears and disasters that dating a Vargas boy can cause, and she swore an oath—with candles and a contract and everything—to never have anything to do with one.

Now Jude is the only sister still living at home, and she's spending the summer helping her ailing father restore his vintage motorcycle—which means hiring a mechanic to help out. Is it Jude's fault he happens to be cute? And surprisingly sweet? And a Vargas?

Jude tells herself it's strictly bike business with Emilio. Her sisters will never find out, and Jude can spot those flirty little Vargas tricks a mile away—no way would she fall for them. But Jude's defenses are crumbling, and if history is destined to repeat itself, she's speeding toward some serious heartbreak…unless her sisters were wrong?

Jude may have taken an oath, but she's beginning to think that when it comes to love, some promises might be worth breaking.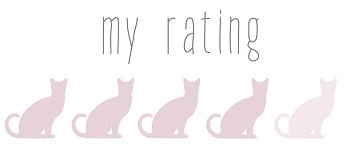 To be honest, The Book of Broken Hearts is not the kind of book I usually pick up. But when I read the blurb, and had heard such good things about The Summer of Chasing Mermaids, I wanted to give it a try.
When I was reading The Book of Broken Hearts, I posted an update that said "I have a feeling that Sarah Ockler is going to become my fave contemporary YA writer." And I absolutely believe it. From the moment I started The Book of Broken Hearts, I knew that I was going to enjoy it.
There is something about Sarah Ockler books (and I'm talking generally here because I have a feeling I will adore all of her books) that is just so achingly real. The characters are real, what they're going through is real, how they react to the things in their life is real. It doesn't feel like reading a book about a snippet of a character's life. It feels like this character is a real person who has sat down with you to tell you about this time in their life when X happened and Y happened, and it made them feel Z. I absolutely love books that have that extra dose of realness, and The Book of Broken Hearts did not fail me in that aspect.
The Book of Broken Hearts is not a fluffy book, and I think that needs to be said before anyone goes off reading it expecting it to be. Jude is in a hard place, trying to come to terms with her father's diagnosis of early onset Alzheimer's, and how that will change him, and the relationship she has with him. God, I felt so much for Jude in this novel. She is so young, and wants to do right by her father, and she is doing such a good job. She never treats him like a child, or an invalid. She treats him like he is her father, and that's exactly who he is.
Jude believes that fixing her father's old motorcycle will somehow stop his memory loss and bring him back. Her belief in this is so strong, and even though I knew that it was impossible, I wanted it to work for her. I wanted it to work because she wanted it to work. She wanted to have the rest of her life with her father – the father that knows her, that takes care of her. And to know that this project wouldn't bring him back was endlessly sad. But even though it didn't work in the way that Jude wanted it to, it still brought her father so much happiness. He relived his bikie days, and shared things with her that she had never known before. He was happier when he was working on the bike, and Jude was given a summer of getting to know a different version of her father.
To help with the motorcycle rebuilding, Jude and her father hire Emilio Vargas – who just so happens to be the brother of two boys who broke the hearts of two of Jude's sisters. Because of this, they all swore off the Vargas boys, because they were bound to break your heart. I really liked Emilio. I felt like he treated Jude's father with such respect and patience and kindness, and I was just like: yes, this is how you should treat everyone (unlike Jude's "friends" who were so awful, and that's all I'm going to say because they don't deserve review time). Jude was super conflicted about falling for Emilio because of the oath she made with her sisters in childhood. This was probably the only thing I didn't love about The Book of Broken Hearts. I just wanted Jude to realise that the oath was something the sisters did to make themselves feel better about their heartbreak. I couldn't believe that she tried to run away from her feelings for Emilio because of it. Her sisters should want her to be happy, should get to know Emilio for who he is, should support Jude.
The Book of Broken Hearts was a novel that I really and thoroughly enjoyed. I cannot wait to read the rest of Sarah Ockler's books!
© 2016, Chiara @ Books for a Delicate Eternity. All rights reserved.
trigger warning: death and injuries via motorcycle accident, and parent with early onset alzheimer's  in this novel

Posted on: July 1, 2016 • By: Chiara