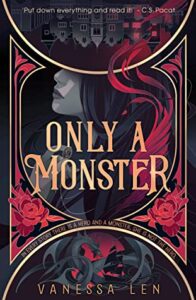 What: Only a Monster (Monsters #1) by Vanessa Len
Who: Allen and Unwin
When: February 1st 2022
How: A copy of this novel was provided by Allen and Unwin for review.
RRP: $22.99 (AUD)
It should have been the perfect summer. Sent to stay with her late mother's eccentric family in London, sixteen-year-old Joan is determined to enjoy herself. She loves her nerdy job at the historic Holland House, and when her super cute co-worker Nick asks her on a date, it feels like everything is falling into place.

But she soon learns the truth. Her family aren't just eccentric: they're monsters, with terrifying, hidden powers. And Nick isn't just a cute boy: he's a legendary monster slayer, who will do anything to bring them down.

As she battles Nick, Joan is forced to work with the beautiful and ruthless Aaron Oliver, heir to a monster family that hates her own. She'll have to embrace her own monstrousness if she is to save herself, and her family. Because in this story . . .

. . . she is not the hero.

Only a Monster follows sixteen-year-old Joan, who is Chinese-English, and, apparently, a monster. When Joan loses an entire day after an altercation with a neighbour, she finds out that her family has been keeping a massive secret from her: she's a time traveller (or monster as they call themselves), and so is the rest of her family. The catch: they have to steal time off human lives to travel. But Joan doesn't get any time to ask her family anything before everything goes from bad to worse.
The bad: her crush is the fated and legendary "hero" who is destined to wipe out every living monster. Worse: (this happens in the first few chapters so it's really not very spoilery but skip to the next paragraph if you're really worried): he kills her entire family. Left alone with the sole remaining survivor of the massacre, who just so happens to be the heir of a rival monster family, Joan is suddenly thrust into a world she knows nothing about, with the hero she still has feelings for hot on her trail.
I really love the concept of time travelling families that live completely under the radar to the rest of the human world. I'm not so sure I'd go as far as to say they're monsters, but I suppose stealing time off human lives just to have a party in the 1920s is pretty monstrous. Because Joan knows literally nothing about her monstrous family, there's a lot that the reader doesn't know about this element of the story. I wish there'd been a little more world building in this regard, but I'm hoping that as Joan becomes more enmeshed in the monster world the world building will go hand in hand.
One of the best parts of this novel was the focus on friendship and family ties. I really love it when these relationships get the same development and page time as romance, so this was a huge plus. Joan's friendship with Aaron (the rival family heir) was believable from its rocky beginnings to its poignant and touching moments towards the end of the book. Joan and her family are really close, and it's obvious throughout the whole novel how much she loves them.
The ending, while mostly satisfying, really sets up the story for a sequel. I can only imagine that the stakes are going to be even higher somehow, and that Joan will face even more trials and tribulations. If you're a fan of classic YA urban fantasies like Shadowhunters and This Savage Song, then Only a Monster might just be the book for you.
© 2022, Chiara @ Books for a Delicate Eternity. All rights reserved.
trigger warning

multiple murders, attempted murder, racism, blood and gore, false imprisonment, implied torture, mind control, murder of family members, involuntary drug use

Posted on: February 8, 2022 • By: Chiara