Rosie at Rosie Writes Things tagged me in the This or That Tag! According to my post archives I haven't done a tag since 2015, which surprises me because I quite like doing them. Anyway, there are some rules for this tag so here they are:
Mention the creator of the tag. Ayunda @ Tea and Paperbacks
Thank the blogger who tagged you! Thank you, Rosie!
Choose one of the options — you don't have to state your reasons why, but you can if you want to.
Tag 10 other people to do this tag to spread the love. To be honest I'm just tagging YOU if you want to do this because I don't think most people take on my tags, haha.
And now for the questions…
Reading on the couch or in bed?

I am definitely a couch reader. Most of my reading is done on the couch because the loungeroom is upstairs with the TV, the bay window, and sunshine. I do read in bed just before I go to sleep, which I love, but reading on the couch is definitely my preference.
Male main character or female main character?

Main characters that defy the gender binary. :)
Sweet snacks while reading or salty snacks?

No snacks. I don't know how people read and eat at the same time? There would be food crumbs and oily fingers and those things do not go well with books in my opinion.
Trilogies or quartets?

I don't really know. I mean, The Raven Cycle is a quartet and it's one of my favourites series ever but most of my favourites are actually trilogies. So I suppose trilogies because of that reason and there's less waiting time for it to be over, as well!
First person POV or third person?

Oh, this is so easy. First person all the way! I absolutely adore the insight you get into the character's mind and feelings, which I love. I do adore third person, as well, but first person will always be my favourite to read (and write!).
Reading at night or in the morning?

I don't really read in the morning. I prefer reading in the middle of the day or the afternoon. But since those aren't options then I prefer reading at night because I do this every single day. I've reached the point where I cannot go to sleep unless I read beforehand.
Libraries or bookstores?
Well, libraries are free so YAY for that. But I will always love the feeling of walking through a bookstore and browsing the shelves. Even better is the feeling of finding an amazing sounding book and taking it home.
Books that make you laugh or books that make you cry?
It is very hard to make me laugh in books. Almost harder than it is to make me cry. But in terms of preference I would probably rather a book that makes me cry because that means it's really gotten me emotionally invested, and I love that.
Black book covers or white book covers?
I have such a weakness for book covers with a lot of white space. There's just something so clean and pretty about it. One of my favourites is the cover for Earthbound by Aprilynne Pike (see below) because it's just so pretty.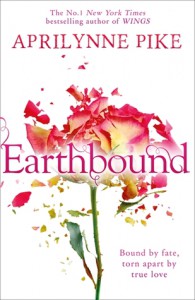 Character driven or plot driven stories?
Character driven by far. I can handle books that are all about the characters but I can't handle a book that's all about the plot. I need to know the characters and what drives them and what makes them feel different things. I need that in order to love a story so I would prefer a character driven one over a plot driven one. But a perfect mix between the both is my favourite!

If you feel like you want to do this tag then I tag you! :D

Posted on: July 12, 2017 • By: Chiara