What: My Name Is Magic by Xan van Rooyen
Who: Tiny Ghost Press
When: September 27th 2022
How: A copy of this novel was provided by Tiny Ghost Press for review.
Taika Turunen has no magic.

Despite coming from a long line of powerful Finnish mages, and their name literally meaning magic, Taika can't perform the simplest of spells.

Forced to attend Myrskyjärvi International School for the Magically Gifted on account of their mom being principal, Taika has a hard time fitting in. Sometimes, they wonder if not having magic has something to do with the fact they're neither a girl nor a boy and if they're fated to be Taika the Talentless forever.

Life goes from bad to worse when Taika sees a liekkiö and recognizes the spirit's voice begging for help as that of their former BFF and major crush, Natalie Khumalo, whose recent absence from class hadn't gone unnoticed. When more students go missing, Taika must take the lead in a race against time to save friends old and new before a powerful group of chaos mages can unleash the legendary Sampo, an artifact capable of either renewing the world's waning magic or destroying everything Taika holds dear.

To rescue Natalie, Taika will have to journey to the liminal space between worlds where they'll be forced to battle mythical monsters and their own flagging self-esteem. In doing so, Taika might just discover that magic—and love—comes in many different forms.

For fans of witchcraft and wizardry looking for a new, inclusive story, My Name Is Magic, is a story about finding strength from within and potential where you least expected it.

I was keen for My Name Is Magic as soon as Tiny Ghost Press announced it because lower YA with a queer protagonist set at a magical school? Sign me up! And I am so happy to say that it did not disappoint in the slightest.
My Name Is Magic follows non-binary lesbian teen, Taika, who, despite having a name that means magic, does not have any of their own. This doesn't make their school or home life easy because they feel like a failure, and other students are determined to make them feel that way as well. Taika's internal monologue was painful to read at times because they are so harsh on themself, and because they don't share these feelings, they don't have anyone to tell them how special they are, magic or not. I was really glad when Taika realised their self-worth, it was a great moment in the book!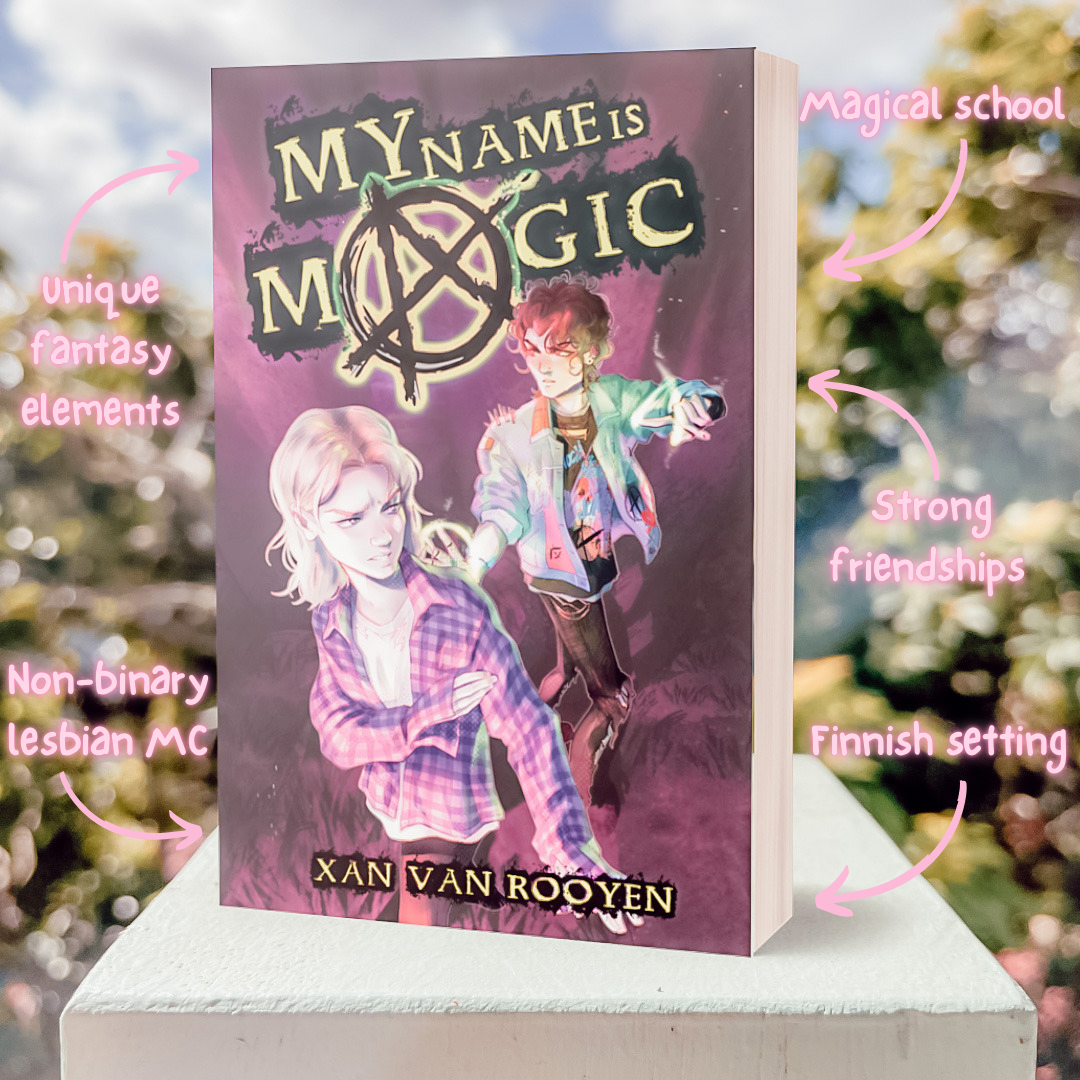 The plot of My Name Is Magic is about magical students going missing, and Taika is the first to realise what's happening when their crush and ex best friend, Natalie, goes missing. While trying to figure out what's happening, Taika meets Morgan, someone who instantly accepts them, and the two become fast friends. This friendship was one of my absolute favourite aspects of the book, and I'm so glad that Taika found another queer person at the school to befriend. Eventually, Taika's bullies also turn over a new leaf but I found that a little hard to get on board with because they were so vile to Taika at the beginning of the novel. But this is an element that I personally don't love in novels.
Another aspect of My Name Is Magic that I really loved was the unique setting, and the magic system! I've never read a book set in Finland before so it was really refreshing to read, and it sounds incredibly beautiful! The magic system and magical creatures were also really fresh and unique because they tied into the Finnish culture and setting as well.
I really hope that My Name Is Magic is the first in a series because I would love to learn more about everything that was introduced in this book!
© 2022, Chiara @ Books for a Delicate Eternity. All rights reserved.
trigger warning

bullying, misgendering, battle scenes, missing friends and family, animal death

Posted on: September 28, 2022 • By: Chiara