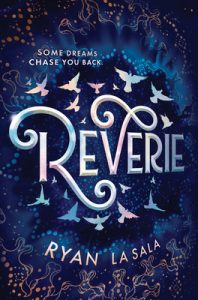 What: Reverie by Ryan La Sala
Who: Sourcebooks Fire
When: December 3rd 2019
How: A copy of this novel was provided by New South Books for review.
All Kane Montgomery knows for certain is that the police found him half-dead in the river. He can't remember how he got there, what happened after, and why his life seems so different now. And it's not just Kane who's different, the world feels off, reality itself seems different.

As Kane pieces together clues, three almost-strangers claim to be his friends and the only people who can truly tell him what's going on. But as he and the others are dragged into unimaginable worlds that materialize out of nowhere—the gym warps into a subterranean temple, a historical home nearby blooms into a Victorian romance rife with scandal and sorcery—Kane realizes that nothing in his life is an accident. And when a sinister force threatens to alter reality for good, they will have to do everything they can to stop it before it unravels everything they know.

This wildly imaginative debut explores what happens when the secret worlds that people hide within themselves come to light.
The first thing you need to know about Reverie is that the premise is incredibly unique. The story centres on Kane, who lives in a town where people's fantasies are coming to life. That's right: virginal sacrifices to a glowing lobster while cavemen cheer? Check. A Victorian romance with a secret lesbian twist? Check. I thought this idea was incredibly weird and for a while I couldn't decide if it was the good kind of weird or the bad. In the end I felt that it was good weird because it was so unique, and I've certainly never read anything like it.
Now, if only the main character had been as unique. Unfortunately, the main failing of Reverie was Kane, which is a big thing when he's the singular narrator. Kane goes through the book with no recent memory of his life. The execution of this felt very weak because I've read memory loss/amnesia stories before and the main character still manages to be interesting and three dimensional. Kane never felt like a person to me, and his lack of memory made him bland and unresponsive to a lot of the things going on around him.
So while I enjoyed the concept behind Reverie and to an extent the execution, I could never connect fully with the story because of Kane. Even his romantic storyline left me unfeeling because he himself said that the boy was in love with a different version of himself – one that sounded a lot more interesting from how his friends described him. I also felt like it was rushed because even though they'd been together prior to Kane's memory loss Kane didn't remember any of that relationship, so for him he was falling for this guy for the first time. I suppose it could have been vestigial feelings from before his memories were lost but that was never given as the reason so it just felt way too fast for me.
In terms of the other characters in the book, I wish there had been more time spent on them. I feel like they all had potential – especially Kane's sister – but in the end they all just felt like fillers. There to push Kane's story along, provide him with the answers he was looking for, and be there as ammunition for the villain. Rushed romances were set up between all four of the side characters and it felt somewhat insincere because there hadn't been enough build up of them as people or as potential couples for it to feel romantic or something I should care about.
I never thought I'd say this but perhaps Reverie would have benefitted from being the first in a series rather than a standalone because as it stands there was just too much to fit into one novel and it left many things half baked. If this had been a first book about Kane recovering from his memory loss, learning of his powers and the reveries, as well as making those initial connections again with his friends, family, and boyfriend then it would have left more room for growth in a second book. It also would have fleshed out the betrayal of the book's villain and also their motivation for doing what they did.
All in all, I have mixed feelings about Reverie. Idea: great. Execution… not so much. I suppose if you're looking for a fast YA fantasy standalone then Reverie might fit the bill. Otherwise, I'm not entirely sure this one is worth it, unfortunately.
© 2020, Chiara @ Books for a Delicate Eternity. All rights reserved.
trigger warning

reference to fire/explosion, bullying, homophobia, violence, memory loss/amnesia, mild blood and gore, death

Posted on: January 17, 2020 • By: Chiara