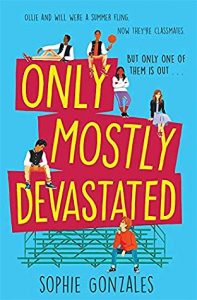 What: Only Mostly Devastated by Sophie Gonzales
Who: Hodder Children's Books
When: March 3rd 2020
How: A copy of this novel was provided by Hachette Australia for review.
When Ollie meets his dream guy, Will, over summer break, he thinks he's found his Happily Ever After. But once summer's ended, Will stops texting him back, and Ollie finds himself one prince short of a fairytale ending. To complicate the fairytale further, a family emergency sees Ollie uprooted and enrolled at a new school across the country—Will's school—where Ollie finds that the sweet, affectionate and comfortably queer guy he knew from summer isn't the same one attending Collinswood High. This Will is a class clown, closeted—and, to be honest, a bit of a jerk.

Ollie has no intention of pining after a guy who clearly isn't ready for a relationship. But as Will starts 'coincidentally' popping up in every area of Ollie's life, from music class to the lunch table, Ollie finds his resolve weakening.

The last time he gave Will his heart, Will handed it back to him trampled and battered. Ollie would have to be an idiot to trust him with it again.

Right?

Right.
There are four main things you should know about Only Mostly Devastated and they are:
1) It has similarities to Grease (but I wouldn't call it a retelling)
Yes, Ollie meets his love interest, Will, on holidays and they have the perfect romance. Yes, when they go back to school Will pretends he doesn't know Ollie and acts like an ass. But that is really where the similarities between Only Mostly Devastated and Grease begin and end. Which is fine! But I thought it important to include here because I only ever see this title being compared to Grease when in all reality I would be using Simon VS as the comp title. There were so many things about Only Mostly Devastated that reminded me of Simon VS so if you're looking for a second Simon VS then here it is.
2) Will… I did not like him
Will is Ollie's love interest for the entirety of Only Mostly Devastated. And I have to say I was not a fan. He hurt Ollie time and time again, and for purely selfish reasons. He said that he was an asshole because he had to keep up his straight façade at school. But there are plenty of straight people who don't mock queer people? And people still think they are straight? So, sorry not sorry, but that is not and never will be a ~reason~ to be queerphobic. Even if it was Will's reason, there was not enough – or really any – exploration of his possible internalised queerphobia to make sense of it all. He was just an asshole and then used the "oh but I need to pretend I'm straight" as some kind of get out of jail free card. Nope. Big nope.
3) Ollie was adorable (but also slightly unrealistic)
Ollie's voice in Only Mostly Devastated was pure fun. He is quirky and adorable. But there were also things that made him feel unrealistic – mainly his pop culture references. Which were all to things that I, as someone in her mid twenties, would reference. So when Ollie was so young and referencing all of these things that I would reference it was hard to suspend my disbelief. I work with teens and know that if I referenced these things they'd be like 'what are you talking about?' Case in point when I quoted Mean Girls and my 18 year old client had no idea what I was talking about. So while I laughed and enjoyed the references because they were from my era, I think they would go over a teen's head.
4) It's not all butterflies and rainbows
Aside from the fact that Ollie's romance went from perfect to bullshit in 0.2 seconds, there are other things that he's dealing with in his life. For instance, he is practically the main caretaker of his nephew and niece because their mother, and Ollie's aunty, has terminal cancer. I felt so much for Ollie because someone so young should never be thrown into a parenting role but life sucks and it does happen. I would have liked for the adults to realise what they were doing wasn't right but I guess adults aren't always enlightened so that didn't happen.
~
All in all, I didn't fall head over heels for Only Mostly Devastated. I definitely enjoyed it, and I flew through it because it was so easy to read. But there were just a few things that held me back from adoring this one.
© 2020, Chiara @ Books for a Delicate Eternity. All rights reserved.
trigger warning

homophobia, bisexual erasure, bullying, terminally ill family member, death of a family member

Posted on: March 10, 2020 • By: Chiara