What: Cinderella Is Dead by Kalynn Bayron
Who: Bloomsbury YA
When: August 6th 2020
How: A copy of this novel was provided by Bloomsbury Australia for review.
It's 200 years since Cinderella found her prince, but the fairytale is over.

Sophia knows the story though, off by heart. Because every girl has to recite it daily, from when she's tiny until the night she's sent to the royal ball for choosing. And every girl knows that she has only one chance. For the lives of those not chosen by a man at the ball . are forfeit.

But Sophia doesn't want to be chosen – she's in love with her best friend, Erin, and hates the idea of being traded like cattle. And when Sophia's night at the ball goes horribly wrong, she must run for her life. Alone and terrified, she finds herself hiding in Cinderella's tomb. And there she meets someone who will show her that she has the power to remake her world.
As soon as I heard about Cinderella Is Dead I knew I had to read it. A retelling of Cinderella with a queer Black girl as the leading character? Sign me the heck up! Unfortunately I didn't end up loving Cinderella Is Dead as much as I had hoped I would, which saddens me to no end.
There was one main thing missing for me when it came to Cinderella Is Dead and it was lack of development. There was a lack of development in almost every aspect. I didn't feel like I got to know the main character, Sophia, outside of her desire to run away from the ball and the forced marriage to a stranger. I really wanted to know her. Know what she liked and didn't like, some childhood memories, how she fell in love with Erin, what she did for the first sixteen years of her life before the book started. But there was none of this. Sophia existed only in terms of her romance and her hatred of the sexist society she lived in.
The lack of development of the romantic connection between Sophia and both Erin and Constance was another downfall. I didn't mind the instant connection and attraction between Sophia and Constance because I think the circumstances of Sophia's life up to that point put her in that position. But I wanted more of the two of them together and developing their connection. I wanted deep and meaningful moments where the emotional connection was on par with the physical one. But unfortunately I never got that.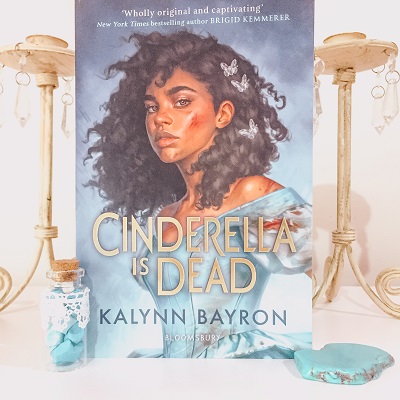 Cinderella Is Dead was also lacking stakes. Now, I am all for a character driven novel with low stakes but since the characters weren't fleshed out enough to drive this novel then the plot needed to be one that really blew me away. But it wasn't. I never felt a sense of urgency and I never felt fear for Sophia, either. The potential was there because I think being forced into a most-likely abusive marriage would be terrifying. The lack of women's rights was terrifying. But they were just there. I never felt the fear or the terror at Sophia's situation.
There were also things I liked about Cinderella Is Dead. I liked the unique premise, and the way that Cinderella actually existed in this retelling. I liked descriptions of the luxury of the ball and the palace, and the fact that it was about a queer Black girl fighting the patriarchy. I liked the twist on the original tale when it came to the evil stepmother and stepsisters, and the way the fairy godmother was included in the story.
If the development of the areas I mentioned before had been built upon I think Cinderella Is Dead would have had the potential to become a new favourite. But unfortunately it mainly fell flat for me.
© 2020, Chiara @ Books for a Delicate Eternity. All rights reserved.
trigger warning

use of ableist language, violence, murder, decapitation, sexism, misogyny, homophobia, domestic violence, death of a friend, torture, human trafficking, forced marriage, explosions, fire, animal death

Posted on: October 6, 2020 • By: Chiara