I love movies just about as much as I love books, and I watch a lot of them each and every month. Movie of the Month is my way of sharing the best movie I saw each month with you, my lovely readers <3 I hope you find some awesome films to watch!
Movie of the Month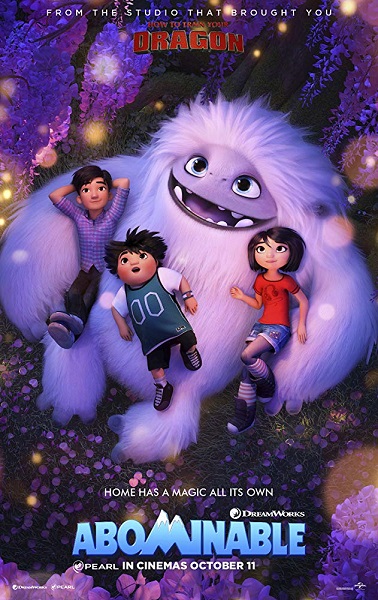 (source)
I had been keen for Abominable ever since the trailers were on TV. For myriad reasons I can't go to the cinema so as soon as it was available to put on hold at my library I did. And waited patiently for it to arrive, all the while hoping children hadn't scratched the disc before it made it to me (which has happened before smh).
Abominable made me laugh and it made me cry. It tells the story of a baby yeti who escapes captivity and finds Yi, a girl who wants to take him back home. Along with her friends, Peng and Jin, they attempt to do just that.
Abominable definitely had its silly moments because it is a kids movie after all, but there was a really touching undercurrent to the entire film. There were a lot of moments when my heart ached for Yi and Everest (the baby yeti) because they were both so young and had been through so much. Bless their little hearts.
The best thing about this movie was Everest's laugh. I couldn't help but laugh along with him every time <3
If you're looking for a kids movie with gorgeous scenery, lovely friendships, and some beautiful messages along the way then I highly recommend giving Abominable a chance.

So this was the best film I watched in January! Have you seen it? Have I convinced you to give it a go? What was the best movie you saw in January?

Ta ta for now,

Posted on: February 18, 2020 • By: Chiara