Even though Halloween is well and truly over the spirit will never die!!! Which is why I'm sharing the books I read for the spooky season so late. You can read these books at any time, after all! Maybe you'll find one you want to read :)
A Stitch in Time by Kelley Armstrong

Thorne Manor has always been haunted…and it has always haunted Bronwyn Dale. As a young girl, Bronwyn could pass through a time slip in her great-aunt's house, where she visited William Thorne, a boy her own age, born two centuries earlier. After a family tragedy, the house was shuttered and Bronwyn was convinced that William existed only in her imagination.

Now, twenty years later Bronwyn inherits Thorne Manor. And when she returns, William is waiting.

William Thorne is no longer the boy she remembers. He's a difficult and tempestuous man, his own life marred by tragedy and a scandal that had him retreating to self-imposed exile in his beloved moors. He's also none too pleased with Bronwyn for abandoning him all those years ago.

As their friendship rekindles and sparks into something more, Bronwyn must also deal with ghosts in the present version of the house. Soon she realizes they are linked to William and the secret scandal that drove him back to Thorne Manor. To build a future, Bronwyn must confront the past.
My Rating: ★★★
Anna Dressed in Blood by Kendare Blake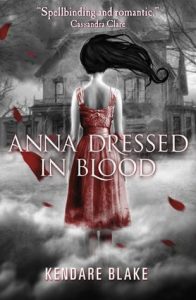 Cas Lowood has inherited an unusual vocation: He kills the dead.

So did his father before him, until he was gruesomely murdered by a ghost he sought to kill. Now, armed with his father's mysterious and deadly athame, Cas travels the country with his kitchen-witch mother and their spirit-sniffing cat. They follow legends and local lore, destroy the murderous dead, and keep pesky things like the future and friends at bay.

Searching for a ghost the locals call Anna Dressed in Blood, Cas expects the usual: track, hunt, kill. What he finds instead is a girl entangled in curses and rage, a ghost like he's never faced before. She still wears the dress she wore on the day of her brutal murder in 1958: once white, now stained red and dripping with blood. Since her death, Anna has killed any and every person who has dared to step into the deserted Victorian she used to call home.

Yet she spares Cas's life.
My Rating: ★★
This Monstrous Thing by Mackenzi Lee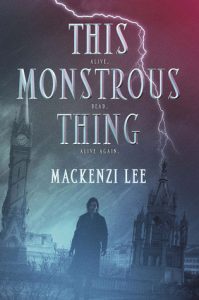 In 1818 Geneva, men built with clockwork parts live hidden away from society, cared for only by illegal mechanics called Shadow Boys. Two years ago, Shadow Boy Alasdair Finch's life shattered to bits.

His brother, Oliver—dead.

His sweetheart, Mary—gone.

His chance to break free of Geneva—lost.

Heart-broken and desperate, Alasdair does the unthinkable: He brings Oliver back from the dead.

But putting back together a broken life is more difficult than mending bones and adding clockwork pieces. Oliver returns more monster than man, and Alasdair's horror further damages the already troubled relationship.

Then comes the publication of Frankenstein and the city intensifies its search for Shadow Boys, aiming to discover the real life doctor and his monster. Alasdair finds refuge with his idol, the brilliant Dr. Geisler, who may offer him a way to escape the dangerous present and his guilt-ridden past, but at a horrible price only Oliver can pay…
My Rating: ★★★
Horrid by Katrina Leno

Following her father's death, Jane North-Robinson and her mom move from sunny California to the dreary, dilapidated old house in Maine where her mother grew up. All they want is a fresh start, but behind North Manor's doors lurks a history that leaves them feeling more alone…and more tormented.

As the cold New England autumn arrives, and Jane settles in to her new home, she finds solace in old books and memories of her dad. She steadily begins making new friends, but also faces bullying from the resident "bad seed," struggling to tamp down her own worst nature in response. Jane's mom also seems to be spiralling with the return of her childhood home, but she won't reveal why. Then Jane discovers that the "storage room" her mom has kept locked isn't for storage at all — it's a little girl's bedroom, left untouched for years and not quite as empty of inhabitants as it appears….

Is it grief? Mental illness? Or something more… horrid
My Rating: ★★
The Bone Houses by Emily Lloyd-Jones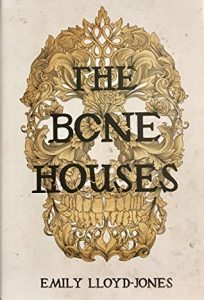 Follow your heart, and reach for the stars.

Seventeen-year-old Aderyn ("Ryn") only cares about two things: her family, and her family's graveyard. And right now, both are in dire straits. Since the death of their parents, Ryn and her siblings have been scraping together a meager existence as gravediggers in the remote village of Colbren, which sits at the foot of a harsh and deadly mountain range that was once home to the fae. The problem with being a gravedigger in Colbren, though, is that the dead don't always stay dead.

The risen corpses are known as "bone houses," and legend says that they're the result of a decades-old curse. When Ellis, an apprentice mapmaker with a mysterious past, arrives in town, the bone houses attack with new ferocity. What is it that draws them near? And more importantly, how can they be stopped for good?

Together, Ellis and Ryn embark on a journey that will take them deep into the heart of the mountains, where they will have to face both the curse and the long-hidden truths about themselves.
My Rating: ★★★
Toil and Trouble: 15 Tales of Women and Witchcraft

A young adult fiction anthology of 16 stories featuring contemporary, historical, and futuristic stories featuring witchy heroines who are diverse in race, class, sexuality, religion, geography, and era.

Are you a good witch or a bad witch?

Glinda the Good Witch. Elphaba the Wicked Witch. Willow. Sabrina. Gemma Doyle. The Mayfair Witches. Ursula the Sea Witch. Morgan le Fey. The three weird sisters from Macbeth.

History tells us women accused of witchcraft were often outsiders: educated, independent, unmarried, unwilling to fall in line with traditional societal expectations.

Bold. Powerful. Rebellious.

A bruja's traditional love spell has unexpected results. A witch's healing hands begin to take life instead of giving it when she ignores her attraction to a fellow witch. In a terrifying future, women are captured by a cabal of men crying witchcraft and the one true witch among them must fight to free them all. In a desolate past, three orphaned sisters prophesize for a murderous king. Somewhere in the present, a teen girl just wants to kiss a boy without causing a hurricane.

From good witches to bad witches, to witches who are a bit of both, this is an anthology of diverse witchy tales from a collection of diverse, feminist authors. The collective strength of women working together—magically or mundanely–has long frightened society, to the point that women's rights are challenged, legislated against, and denied all over the world. TOIL & TROUBLE delves deep into the truly diverse mythology of witchcraft from many cultures and feminist points-of-view, to create modern and unique tales of witchery that have yet to be explored.
My Rating: ★

Have you read any of these? What books did you read for Halloween 2020? Let me know below!


Posted on: November 30, 2020 • By: Chiara