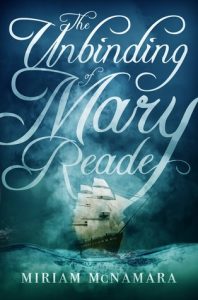 What: The Unbinding of Mary Reade by Miriam McNamara
Who: Sky Pony Press
When: June 19th 2018
How: A copy of this novel was provided by Sky Pony Press for review via Edelweiss.
A clever, romantic novel based on the true story of a girl who disguised herself as a boy to sail with the infamous pirates Anne Bonny and Calico Jack—and fell in love with Anne Bonny.

There's no place for a girl in Mary's world. Not in the home of her mum, desperately drunk and poor. Not in the household of her wealthy granny, where no girl can be named an heir. And certainly not in the arms of Nat, her childhood love who never knew her for who she was. As a sailor aboard a Caribbean merchant ship, Mary's livelihood—and her safety—depends on her ability to disguise her gender.

At least, that's what she thinks is true. But then pirates attack the ship, and in the midst of the gang of cutthroats, Mary spots something she never could have imagined: a girl pirate.

The sight of a girl standing unafraid upon the deck, gun and sword in hand, changes everything. In a split-second decision, Mary turns her gun on her own captain, earning herself the chance to join the account and become a pirate alongside Calico Jack and Anne Bonny.

For the first time, Mary has a shot at freedom. But imagining living as her true self is easier, it seems, than actually doing it. And when Mary finds herself falling for the captain's mistress, she risks everything—her childhood love, her place among the crew, and even her life.

Breathlessly romantic and brilliantly subversive, The Unbinding of Mary Reade is sure to sweep readers off their feet and make their hearts soar.
Expectations
1) Queer pirates!!!!
2) Queer pirates falling in love!!!
3) Gender discourse regarding the cross-dressing storyline!!
4) Pirating!
Reality
1) I suppose I'll give The Unbinding of Mary Reade this one. This book was about a queer pirate girl, and also featured another queer pirate girl. I think this aspect was my favourite of the entire book. The fact that it was about queer pirates.
2) There were queer pirates falling in love in The Unbinding of Mary Reade. But did I ship them? Not necessarily. Their romance moved incredibly fast and I just didn't like the love interest, Anne. She was supposed to be this badass pirate girl, but instead she came off more like a whiny teenage pirate girl. Which I guess is fine, since she is a teenager. But there was so much potential to her character and it was unused. Instead of being badass and fighting her way through life she just relied on her boyfriend to save her. Towards the end we see Anne taking the reins in her life and I wanted so much more of that. I wanted that steadfastness from the beginning.
Also, the whole premise of the story – and reason for Mary being at sea – is that she's in love with her childhood best friend, Nat (who's a guy). I was more invested in this love because it was actually shown. There were flashbacks, and how Mary felt about Nat was just more real. Which sucked because he was an asshole. I just wish that the romance between Mary and Anne had been as fleshed out and life-altering as Mary's love for Nat was. Because then it would have been a ship that had me sailing 'til the end of time. Because sometimes we got flashes of epic love between Mary and Anne, and I would have loved that epicness to be there all the time.
3) This was the thing I wanted most out of The Unbinding of Mary Reade. There is a severe and glaring lack of gender discourse in books with cross-dressing characters in them. And I thought that this time it would be different. That because this is a queer book there might be some exploration and discussion. But all I can say on this front is: an attempt was made. There were a few passages where Mary thought about who she was, but it was all about how she'd "grown up" and "lived" as a boy, so it was all very binary and there wasn't any thought of if she was actually a boy because she felt like one. But alas, Mary was a girl because… she was one. And I know this book wasn't going to be about a trans pirate but!! I still wanted more discourse around gender and I just didn't get it.
4) WHERE WAS MY PIRATING? This book was severely lacking in any and all pirating. There was maybe one or two scenes where there was actual pirating happening. I wanted pirates, dammit! And it would have been great because the pirating that was in the book was detailed and action-y and not toned down like it usually is. However, in the end I got a book that was predominantly romance focussed where I signed up for a badass pirate story.
© 2018, Chiara @ Books for a Delicate Eternity. All rights reserved.
trigger warning

attempted rape, sexual assault, domestic violence, reference to child abuse, alcoholic parent, multiple murders, graphic violence, explosions, romantic cheating, sexism, homophobia, transphobia, queerphobia, death of friend (gunshot wound), reference to animal hunting, use of ableist language

Posted on: June 19, 2018 • By: Chiara