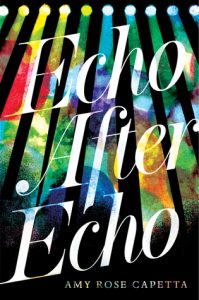 What: Echo After Echo by Amy Rose Capetta
Who: Candlewick Press
When: October 10th 2017
How: A copy of this novel was provided by Walker Books Australia for review.
Debuting on the New York stage, Zara is unprepared—for Eli, the girl who makes the world glow; for Leopold, the director who wants perfection; and for death in the theater.

Zara Evans has come to the Aurelia Theater, home to the visionary director Leopold Henneman, to play her dream role in Echo and Ariston, the Greek tragedy that taught her everything she knows about love. When the director asks Zara to promise that she will have no outside commitments, no distractions, it's easy to say yes. But it's hard not to be distracted when there's a death at the theater—and then another—especially when Zara doesn't know if they're accidents, or murder, or a curse that always comes in threes. It's hard not to be distracted when assistant lighting director Eli Vasquez, a girl made of tattoos and abrupt laughs and every form of light, looks at Zara. It's hard not to fall in love. In heart-achingly beautiful prose, Amy Rose Capetta has spun a mystery and a love story into an impossible, inevitable whole—and cast lantern light on two girls, finding each other on a stage set for tragedy.
The first thing you probably need to know about Echo After Echo is that there are a lot of POVs. From the blurb I thought this book was going to be about Zara, and then when Eli's chapters started I was like: yeah, okay, that sometimes happens. And then when almost everyone in the theatre had at least one POV chapter I was a little overwhelmed. Especially since I didn't feel like a lot of them were necessary. In a mystery/thriller I can understand the need for some non-MC POV chapters to give insight into some elements but these extra POV chapters didn't feel like they did that.
I think it takes a special mystery/thriller book to juggle slow pacing and sadly I don't think that Echo After Echo quite hit the mark. At 432 pages it just felt too long, and the mystery and thriller aspects of the book were lost underneath all the extras about the play and the theatre. I feel like the tension of people being murdered should be the overarching element in a mystery/thriller book, but in Echo After Echo I felt like that part was the subplot and the main plot was Zara being in a play for the first time and falling in love for the first time. I felt like there were two different novels trying to vie for the same page time.
When Zara arrives at the theatre, she idolises the director, who turns out to be a predator. Considering what's going on in the entertainment industry right now I felt like this was pretty topical. Everyone in the theatre was under the director's 'spell' and had been forever. Even if he made up stories about them, caused their relationships to fall apart, supported their drug abuse and alcoholism, and sexually assaulted them. This was, according to the people themselves, because the director had such power in the arts industry and could make or break them. Except… I never saw that power. He was in one theatre, with the same people all the time. I didn't see this power that they spoke of at all. And I found some actions of the theatre people to be pretty disgusting in terms of their knowledge of the director's behaviour, and the fact that he'd hired a teenage girl to play his leading role. All of them were complicit in how he treated Zara.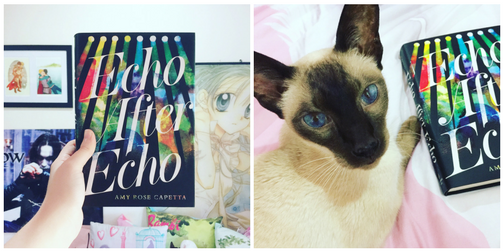 The best thing about Echo After Echo by far was the romance between Zara and Eli. It was innocent and sweet and I loved it. Reading about Zara falling in love for the first time was lovely, and reading about Eli falling for someone who she was scared would choose her career over her was bittersweet. Their relationship wasn't all smooth sailing, but I feel like they actually talked about things instead of trying to ignore them. The two girls were very open and honest with each other and I appreciated that a lot. I also liked their frank discussions regarding their sexuality – Zara is bi and Eli is gay – and their support for one another in this regard.
The ending, however, kind of put a bitter taste in my mouth in terms of who the murderer was. Slightly poilery bit ahead: I'm not entirely okay with a victim turning out to be the murderer, and thus the person we're supposed to hate. I know that murder, of course, is not the answer to trauma but I still didn't like how we were, obviously, supposed to feel horror towards the perpetrator. And even though I felt that horror towards their actions, I couldn't feel it fully. The person had been abused by the director for years and I couldn't dismiss that just because of who they turned out to be.
All in all, I did enjoy Echo After Echo even though there were a few elements I wasn't 100% a fan of. I still recommend this book if you're looking for a mystery/thriller with queer girls at the helm!
© 2018, Chiara @ Books for a Delicate Eternity. All rights reserved.
trigger warning

multiple murders, suicidal ideation, reference to eating disorder, reference to rape, use of ableist language, emotional abuse, attempted murder, reference to homophobia/misia, reference to drug abuse, reference to alcoholism, absent parents, and physical boundary pushing (the director invades Zara's personal space multiple times, even though he knows it makes her extremely uncomfortable and scared)

Posted on: January 9, 2018 • By: Chiara