Five Reasons To is basically my way of convincing you to love the same things I do. Because I love a lot of things for a lot of reasons. Hopefully my powers of persuasion will work their magic on you, and you can find new things to love!
Today, I am going to give you five reasons to:
Read The Wicker King by K. Ancrum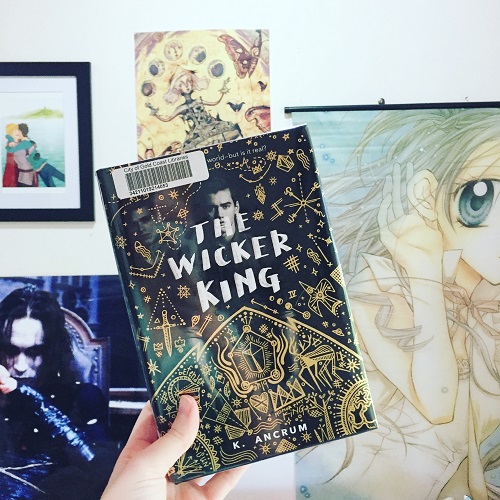 1. August
Protect this boy!! At all costs!!! Honestly, August is too precious for this world, and to read his journey in The Wicker King is something you will never forget. He's such a freaking sensitive soul, and cares so much I just can't even. He's strong and kind and passionate and just so many darn things and to see this kind of boy on our pages is damn important.
2. Jack

Jack, my darling. Where do I even begin? Jack's arc follows the same timeline and a lot of the same happenings as August's but is different at the same time. My heart actually hurt for Jack and the fact that August is literally the only person on earth who gives a shit about him. His mental health plays a huge role in this book, and it's honestly done with such care and nuance and research and sensitivity. Jack is a lost boy and this book finds him.
3. August AND Jack
I will fight anyone who says that the relationship between August and Jack was not queer enough. It was queer af from the moment this book started. This isn't a book about a friendship. This is a book about two boys going through bucket loads of shit and only having each other to rely on. It's about love and what it can make you do. It's about discovering yourself. It's about putting someone else before yourself. It's about two! guys! in! love! And also polyamory! IT'S QUEER AF IS WHAT I'M SAYING HERE.
4. It's #ownvoices

August is bi and so is the author *cheers* Bi boys hardly ever make it to our pages (*shakes fist at entire publishing industry*) and I'm so glad this wasn't another monumental fuck up in terms of the rep (because BOY have there been fuck ups in the little bi boy rep we have). So BLESS the fact that The Wicker King is #ownvoices.
5. The Design

Okay, firstly look at that cover artwork. It is perfection. And inside the pages it gets even better. If you don't believe anything can get better than that cover you need to read this book. There are notes and photos and drawings and the pages get darker as the story does and the atmosphere this book design creates is magical. Petition for all books to be this detailed and gorgeous.

So these are five reasons for you to read The Wicker King! This book is honestly everything and I will never shut up about it. If you want to add it to Goodreads, click here.

Have you read The Wicker King? Have I convinced you to?
Ta ta for now,

Posted on: December 10, 2018 • By: Chiara