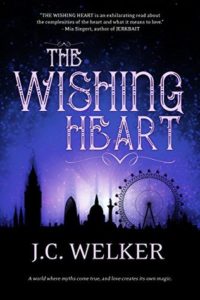 What: The Wishing Heart by J.C. Welker
Who: Entangled: Teen
When: May 1st 2017
How: A copy of this novel was provided by Entangled Publishing for review via Net Galley.
With a book in her bag and a switchblade in her pocket, Rebel's been thieving her way through life while hoping for a cure to fix her ailing heart.

But when the bejeweled vase she just tried to hawk turns out to be a jinni's vessel, Rebel gets lost to her world and dragged within another. Now every magical being in the city wants the vase for himself.

Thrust into a game of cat and mouse in a world she never knew existed, Rebel must use her uncanny skills to find a way to free Anjeline the Wishmaker.

But wishes have consequences. And contracts. Anjeline's freedom could unravel a love like Rebel has never known, or it could come at the cost of Rebel's heart…
There was a lot I liked about The Wishing Heart. It almost made it to four stars, but there was just a little something missing. Nevertheless, The Wishing Heart was a really enjoyable YA fantasy!
I was quite surprised to find that The Wishing Heart featured two POV characters. The first is Rebel, the book-loving thief otherwise known as the Fingersmith. The second is Angeline, the jinni she releases from a stolen vase. Their voices were quite distinct, which is always a plus in multiple POV books. The main positive that came from Anjeline's chapters was that it allowed me as a reader to get to know her a lot more than I would have if the whole book had been told from Rebel's POV. Her chapters also gave insight into what was happening whenever the two got separated, as well.
When I was reading The Wishing Heart I was reminded of the earlier Harry Potter novels, in the way that so many magical things happen in such a short timeframe. There were interactions with a lot of paranormal and fantasy creatures in this book, and a lot of 'oh no we've been captured by evil creature x' moments, and it just gave off a big HP vibe to me. Even though they were quite entertaining to read, I probably would have preferred to have less of the creature/capture situations and more character and relationship development.
Saying that, though, I really did like the ship in The Wishing Heart. I thought that there could have been a little more development, especially on Anjeline's side because she went from "ridiculous human" to "my precious human" a little too quickly for me. But even so, I thought that the romance between Rebel and Anjeline was adorable, and it was my favourite aspect of the entire book. Also, the fact that not one character blinked an eye at the romantic relationship between Anjeline and Rebel made my heart happy.
Rebel as a character was pretty great, even if she was a bit hard-headed at times. I loved how passionate she was about books and reading, and how she was willing to do anything for the people she cares about. I think she and Anjeline complemented each other really well because Rebel is stubborn and shy, and Anjeline is suave and a little bit sassy. I loved their interactions even before they became romantic because even though the two of them clashed, they worked through it for the best outcome.
There was definitely a set up for a sequel at the end of The Wishing Heart, and I really hope that's the case because I would definitely read more about these characters. I think there is so much more to learn, especially about Rebel and Anjeline's past, as well as the side characters.
Overall, I definitely enjoyed The Wishing Heart, and I highly recommend it to anyone looking for a fast-paced fantasy novel with an super shippable f/f romance at its heart.
© 2017, Chiara @ Books for a Delicate Eternity. All rights reserved.
trigger warning: emotional abuse, reference to sex trafficking, physical fights, use of ableist language, hostage situation, thievery, parental abandonment, torture, death, death of a father, murder, and institutional abuse (orphanage) in this novel

Posted on: May 30, 2017 • By: Chiara