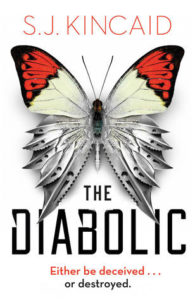 What: The Diabolic by S.J. Kincaid
Who: Simon & Schuster (Australia)
When: November 1st 2016
How: A copy of this novel was provided by Simon & Schuster Australia for review via Net Galley.
Nemesis is a Diabolic. Created to protect a galactic Senator's daughter, Sidonia. The girl who has grown up by her side and who is as much as sister as a master. There's no one Nemesis wouldn't kill to keep her safe. But when the power-mad Emperor summons Sidonia to the galactic court as a hostage, there is only one way for Nemesis to protect Sidonia.

She must become her.

Now one of the galaxy's most dangerous weapons is masquerading in a world of corruption and Nemesis has to hide her true abilities or risk everything. As the Empire begins to fracture and rebellion looms closer, Nemesis learns that there is something stronger than her deadly force: the one thing she's been told she doesn't have – humanity. And, amidst all the danger, action and intrigue, her humanity might be the only thing that can save her, Sidonia and the entire Empire…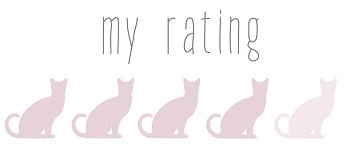 The main reason why I wanted to read The Diabolic is because, somewhere, it mentioned a similarity to Star Wars. I love me some Star Wars, and I thought: a YA book that blends any of the themes/adventures in Star Wars would be pretty great.
And then I kind of forgot about The Diabolic because of reasons (I don't know why, okay), but then I decided to pick it up one day. And you know what? I really liked it.
I liked the fact that we had a badass female character at the helm who was willing to do everything and anything for another female character. Strong friendship/family bond between two female characters? Hell to the yes. So many times these kinds of relationships are completely lacking in books about the "strong female heroine" so I was just PRAISE THE LORD when this book was about Nemesis protecting Sedonia.
My only qualm was that there was no romance between Sedonia and Nemesis. Yeah, sure, it might have taken away from some of the friendship aspect but you can still be friends and in love. And when it was revealed that Sedonia was actually in love with Nemesis, many a tear was shed because this would have been a freaking GROUNDBREAKING novel if that love hadn't been unrequited. GROUND. BREAKING.
But aside from that one disappointment, the rest of The Diabolic was extremely enjoyable for me. There was a heavy dose of political intrigue, and I have now accustomed myself to the fact that I love political plots. I love reading about usurping evil government officials. I love all the planning and scheming and backstabbing that goes into it. It just warms my cold heart, what can I say.
Even though the romance didn't happen between the two characters that I wanted it to happen between (see: Nemesis and Sedonia) I ended up quite liking the ship, anyway, and wanted Nemesis and Tyrus to end up together. Because they're both messed up and don't trust people and hate being vulnerable. And when they are those things together they're so much stronger for it. I SHIPPED IT.
There were some quite unexpected twists and turns, and the overall plot of The Diabolic moved quickly. I was never bored for a second, and I have to say that this was one of my favourite aspects of the book. Whenever I put the book down I wanted to pick it up again so I could see what was going to happen next.
Now, when I read The Diabolic I thought it was a standalone, which I loved. Sci-fi standalones are all but unheard of in YA, and it was great to see the story come to such a satisfying conclusion. But alas, it has since been announced that there are going to be sequels, thus making The Diabolic the first in a series. I am really unsure of whether I'm going to continue because the short blurb of the second book all but ruined the delightful and perfect ending of this book. So in all honesty, I probably won't continue with the series, even though I thoroughly enjoyed The Diabolic.
If you're looking for a fresh take on YA sci-fi that can totally be read as a standalone (live in denial with me!), then I'd suggest giving The Diabolic a try.
© 2017, Chiara @ Books for a Delicate Eternity. All rights reserved.
trigger warning: use of ableist language, forced self harm, torture, multiple murders, animal cruelty, forced drug use, reference to past rape/attempted rape, and reference to murder of family members in this novel

Posted on: January 6, 2017 • By: Chiara