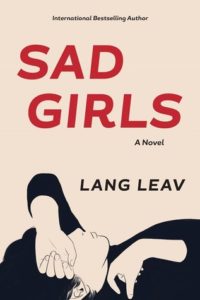 What: Sad Girls by Lang Leav
Who: Andrews McMeel Publishing
When: May 30th 2017
How: A copy of this novel was provided by Hardie Grant Publishing for review.
"Your first love isn't the first person you give your heart to—it's the first one who breaks it."

Sad Girls is the much anticipated debut novel from international best-selling author Lang Leav. A beautifully written and emotionally charged coming of age story, where young love, dark secrets, and tragedy collide.

School is almost out for Audrey, but the panic attacks are just beginning. Because Audrey told a lie and now her classmate, Ana, is dead. Just as her world begins to spin out of control, Audrey meets the enigmatic Rad—the boy who could turn it all around. But will their ill-timed romance drive her closer to the edge?
I'm going to break this review down into thoughts because I had quite a lot of them when reading Sad Girls, and they were varied. So, here they are:
1) I wish I hadn't been spoiled for the ending.
Sadly, before I started reading Sad Girls I was spoiled for the ending. I feel like this did a disservice to the book because I knew a very important aspect of the ending the entire way through. I believe the ending would have packed quite the punch if I hadn't known it all along. So it's hard to comment on how I really feel about what happened at the end of Sad Girls because it didn't hold the same kind of emphasis as it would have had I not been spoiled.
2) It was all tell and no show.
This is the truth. Personally, I don't even really like the whole "show don't tell" writing advice but in this case I think it applies. It was all "I did this then I did that and we went over there and did that". The descriptions and emotions were all missing from what was happening.
3) And yet somehow it was addictive.
Even though I was thinking 'this is just an A to B to C kind of story' I couldn't turn away. There was something about the kind of storytelling used in Sad Girls that drew me in somehow. Although I will say that every time I picked it up there was a small period of acclimation where I had to get used to the telling before I was fully immersed in it again.
4) Audrey is one lucky girl.
Audrey did not have to work for anything she received in this novel. The following examples aren't really spoilers because they don't have anything to do with plot but if you don't want to know the details of her career skip to #5.
Example One: fresh out of high school (and I mean on the day of graduation) one of Audrey's classmates passes on his internship at his aunt's world famous and award winning magazine to Audrey.
Example Two: after working there for a few months Audrey is promoted to Junior Journalist.
Example Three: after a few more months Audrey is promoted to Senior Journalist. Please let me note she doesn't have a journalism degree and this is all in a matter of months not years.
Example Four: Audrey's friend from example one is an intern at the Most Famous and Prestigious Agency and just emails her out of the blue asking to represent her and her collection of short stories.
I couldn't handle this aspect because it all felt so unrealistic. There were other things that just seemed to land in Audrey's lap (like not one but two times she was house sitting and thus didn't pay for rent) and every time it happened I was just narrowing my eyes at the page because they were all going on about how amazing and nice she was and yet I didn't actually see her do anything nice for anyone but herself.
And not only did these magical things happen to Audrey but they happened to Rad, as well. In under a year he was a published novelist and had won some prestigious award. Under. A. Year. But moving on…
5) There were a lot of time jumps.
And most of them seemed like a device to show how much time had passed since Rad and Audrey were friends or together or whatever, but then because they were skipped over in a line or two there wasn't much page time when they weren't in touch.
6) Overall, I guess I wasn't the biggest fan.
I mean, the fact that it drew me in was a plus because when a book can't do that then it's not worth my time. I really do think that my thoughts might have been different if I hadn't been spoiled because then the ending could have held a lot of weight, and sometimes the ending of a book is what makes a book. All in all, I think Sad Girls appeals to a particular reader and I'm just not sure I'm one of them.
© 2017, Chiara @ Books for a Delicate Eternity. All rights reserved.
trigger warnings: suicide, rumour of incest, use of ableist language, romantic cheating, emotional abuse (possessiveness), anxiety, panic attacks, manslaughter, body mutilation, death via car accdident, reference to attempted suicide (graphic), and use of racist language (the word g*psy) in this novel

Posted on: July 21, 2017 • By: Chiara