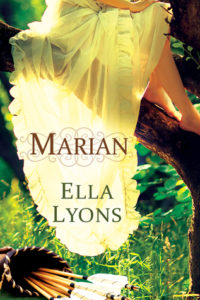 What: Marian by Ella Lyons
Who: Harmony Ink Press
When: November 3rd 2016
How: A copy of this novel was provided by the author for review.
When Marian Banner moves to the glittering city of Nottingham with her father, Sir Erik the Fortunate, her entire life changes. She is no longer allowed to run about the countryside in trousers and braids, climbing fences and shooting turkeys, but is thrust into a life of dresses and jewels and dancing lessons, none of which Marian is particularly pleased about. Her dark mood changes when she meets a tiny whip of a girl called Robin Hood. Robin is fierce and brave, and wants more than anything to become a knight, regardless of her gender. Together they explore the city, becoming fast friends along the way.

As time passes, their friendship into something bigger and scarier and far more wonderful. But then Marian's father is killed in service to the king and she catches the king's eye.

Can Robin save her once more? Or will Marian discover how to save herself?
The beginning of Marian completely sucked me in. I always love it when I know I'm going to enjoy a book from the first page, and with Marian it was practically from the first word. This was mainly because the writing style was lovely, and incredibly easy to engage with.
Although, I was somewhat surprised that over half of Marian was about Marian and Robin as fourteen year olds. I don't usually gravitate towards the lower end of YA, and the blurb for Marian didn't indicate that it centred around such a young protagonist, so it was pretty unexpected. I'm not entirely sure why Marian and Robin were so young when they met, except for the 'we haven't seen each other in years' thing that came in the second part of the novel. I honestly would have preferred them to be older, because I feel like the intense connection and romantic feelings they had for each other would have probably been a bit more investment worthy (the kissing scene was kinda hella awkward because they were so young).
I liked the fact that Robin wasn't introduced from page one, because it allowed me as a reader to get to know Marian as a character without a love interest. Knowing that she was hardworking (and not afraid to get her hands dirty – literally), and loving (her relationship with her best friend was adorable, and I wanted more of it), and an incredible musician really fleshed out her character. That's not to say that Marian lost all of her Marian-ness when she met Robin, but it can be great to get to know someone before they fall in love.
As for falling in love … the ship was quite adorable. I was excited for Marian and Robin to grow up together, and the fact that this didn't happen was quite disappointing. I suppose that would have been far too 'happily ever after', especially since this is the first book in a series! Even so, I hope the girls get to relearn each other in the next book. I think the angst will be high, and the falling in love (again) part will be swoon worthy and sweet.
As this is a retelling, not everything is recognisable. But the little things that were made me so happy. Robin Hood has never been a super favourite of mine, but seeing the nods to the original tale in Marian were fun, and I'm excited to see what other similarities come in the next book!
Overall, Marian was a quick, sweet, and lovely retelling with an f/f romance at its heart. I'm incredibly keen for the next book, because I want to see where the story goes and how it continues to incorporate the original tale, as well as seeing Marian and Robin grow as characters. And having a ship sail, of course.
© 2016, Chiara @ Books for a Delicate Eternity. All rights reserved.
trigger warning: loss of residence via fire, loss of life via fire, robbery, death of a parent (in battle), and sexual assault in this novel

Posted on: November 4, 2016 • By: Chiara