Books for Thought is where I post a discussion topic related to books, reading, writing, or something pertaining to one of the three. I hope you'll join in, and discuss today's topic of
prioritising reading
I'm just going to say it: I prioritise my reading. I prioritise my ARCs and review copies over books that I buy, or borrow from the library (which doesn't really happen at the moment because of said prioritising).
Why do I do this?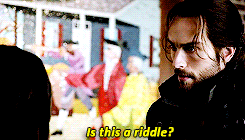 (source)
Well, because I feel like I have an obligation to review these ARCs and review copies (especially if I have requested them). Because I like to have the review up as close to the release date as possible.
[Because I have no self control, and constantly have a ginormous list of ARCs/review copies that need reading and reviewing.]
But sometimes … prioritising reading like this isn't such a great idea. Last year, I had a massive reading slump. I was reading review copy after review copy, and I felt like even though I'd requested them because they looked good and I genuinely wanted to read them: I didn't want to read them that at that time. But because of that guilty feeling, and because I like to review books close to their release date, I kept on going.
[It's weird, though, that it ended up being a review copy that got me
out of
the slump, but that was more because it was a genre I don't read often, so it was new and shiny and interesting.]
After my reading slump, I decided that, though I was still going to prioritise, I wasn't solely going to prioritise my review books. I was going to mix them up with releases that I'd been looking forward to, and series I wanted to finish.
And I have been! I've been mixing up my prioritisation, and I haven't felt any kind of slumpy feelings. Which is fabulous. I hope this continues, because I feel like I have a nice balance between getting my ARCs and review copies done, and reading just for me.

What about you? Do you prioritise your reading? If so, how? If not, why? Do you ever get slumpy when you read too many review copies?


Posted on: February 18, 2016 • By: Chiara