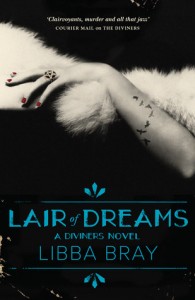 What: Lair of Dreams (The Diviners #2) by Libba Bray
Who: Allen and Unwin
When: August 26th 2015
How: A copy of this novel was provided by Allen and Unwin for review.
After a supernatural showdown with a serial killer, Evie O'Neill has outed herself as a Diviner. Now that the world knows of her ability to 'read' objects, and therefore the past, she has become a media darling, earning the title 'America's Sweetheart Seer'. There's just one downside – a sham engagement to the irritatingly handsome Sam Lloyd.

But not everyone is so accepting of the Diviners' abilities… and across town, a mysterious sleeping sickness is spreading through Chinatown, leaving dead dreamers in its wake.

Can the Diviners descend into the slumberland and catch a killer?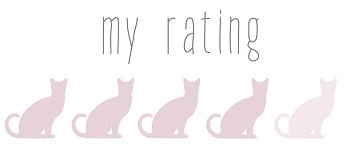 I am SO GLAD that I didn't have to wait three years to read Lair of Dreams, because I think that wait would have been pretty torturous.
Lair of Dreams picks up almost exactly after where The Diviners ended, which I always like. I hate it when heaps of time has passed between books in a series, because I always wonder what happened in the time that we don't get to read. But not too much time has passed in this book, but a lot has changed.
Evie is no longer living with Will and Jericho, and she doesn't have anything to do with the Museum anymore. She's America's Sweetheart Seer, who lives to party, and parties to live. I must admit that I fell a little bit out of love with Evie in Lair of Dreams. In the last book, there was enough depth to her character to even out her sometimes childish behaviour, but there was less insight into that in Lair of Dreams because Evie wasn't the main focus of the book. So I was kind of sad for that, because I think Evie has a lot more going on that she pretends.
There's a little bit of a love triangle between Evie, Sam, and Jericho, but it never takes the front seat in Lair of Dreams. The love aspect is not the main focus of the book (nor was it in The Diviners), and for once I am unsure of who I believe she should end up with. Both boys complement different aspects of her personality, and I just can't say who would be better for her.
The two main characters in this book are Henry and Ling. Ling is a new character that can dream-walk, like Henry. She lives in Chinatown, and this brought in a whole new aspect into the story. Whilst Memphis brings in experiences on what it was like to be black in the 1920s, Ling brings in experiences on what it was like to be Chinese (or, half-Chinese in her case). Both are pretty heartbreaking, but, sadly, not surprising. Ling wants to be a scientist, and has all the sass and sarcasm in the world. I was quite taken by Ling because she's vulnerable but completely determined in life.
HENRY. Oh, my love Henry. He dream-walks in hopes of finding his old boyfriend, Louis. He's also trying to get his songs published, or at least used in the show where he plays the piano. Henry is Theta's other half, and their relationship is absolutely gorgeous. Henry is completely dorky, and makes jokes all the time, and I pretty much just want to spirit him away so that he can live happily ever after. He's the perfect gentleman, and I was so glad that I got to know more about him in this book.
I was not so glad that Memphis hardly had any chapters in Lair of Dreams, because Memphis is my BB, and I want to read about my BB. I hope he comes back in higher frequency in the third book, because I find myself just waiting to read his chapters. And so much stuff is going on with regards to him and his little brother AND HE HAS TO BE OKAY OR I WILL BE EXTREMELY UNHAPPY.
The mysterious supernatural aspect of Lair of Dreams was not quite as creepy as that of The Diviners, but it was intriguing nevertheless. It was more "keep you guessing" than "thoroughly creepy you out", but there were still plenty of creepy moments.
I sincerely hope that the third book in this series doesn't take three years to arrive in my hands, because I desperately need to know how everything will fall into place for these extremely vivid and complex characters.
© 2015, Chiara @ Books for a Delicate Eternity. All rights reserved.
trigger warning: racism, and murders of racist and homphobic origins in this novel

Posted on: August 28, 2015 • By: Chiara