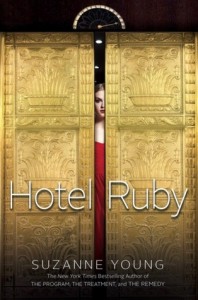 What: Hotel Ruby by Suzanne Young
Who: Simon Pulse
When: November 3rd 2015
How: A copy of this novel was provided by Simon & Schuster Australia for review.
Stay Tonight. Stay Forever.
When Audrey Casella arrives for an unplanned stay at the grand Hotel Ruby, she's grateful for the detour. Just months after their mother's death, Audrey and her brother, Daniel, are on their way to live with their grandmother, dumped on the doorstep of a DNA-matched stranger because their father is drowning in his grief.
Audrey and her family only plan to stay the night, but life in the Ruby can be intoxicating, extending their stay as it provides endless distractions—including handsome guest Elias Lange, who sends Audrey's pulse racing. However, the hotel proves to be as strange as it is beautiful. Nightly fancy affairs in the ballroom are invitation only, and Audrey seems to be the one guest who doesn't have an invite. Instead, she joins the hotel staff on the rooftop, catching whispers about the hotel's dark past.
The more Audrey learns about the new people she's met, the more her curiosity grows. She's torn in different directions—the pull of her past with its overwhelming loss, the promise of a future that holds little joy, and an in-between life in a place that is so much more than it seems…
Welcome to the Ruby.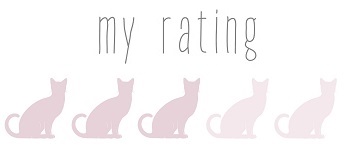 Hotel Ruby was, first and foremost, an entertaining and fast read. Although there were some more serious undertones, a romance, and a creepy concierge added to the mix, as well.
Overall, I enjoyed Hotel Ruby. The one thing that I would say held me back from falling in love with it was the main character – Audrey. I don't feel like I really got know her at all during the course of the book. Which is weird, because I have always felt very connected to Young's characters before. But I didn't really understand Audrey at all. What her motivations were, what she liked … who she really was. So I enjoyed this novel, but I didn't really invest in Audrey's character because I didn't feel like I really knew what kind of character she was.
Even though this was a mystery novel, it's very easy to guess what's going on, which didn't really bother me because I usually guess what's going on. And even though I knew the overarching story, there were still some questions that I had, and answers I was waiting for.
One thing that was really great about Hotel Ruby was the atmosphere. The descriptions were divine, and I really felt like I was in some beautiful hotel right out of the thirties. And there was a huge undercurrent of creepiness to it all, as well. The atmosphere in this book was really on point, and I could understand why Audrey was getting the heebie-jeebies all the time.
The romance between Audrey and Elias moved incredibly quickly, to say the least. No, there were no proclamations of love, but there were a number of mentions of a 'connection'. I really liked Elias, though, and his protective and broken nature. I could understand why, even though Audrey wanted to leave the Ruby, a part of her wanted to stay with Elias and get to know him better.
I suppose I wanted more from Audrey's family, as well. There were glimpses into their life before Audrey and her brother were being carted off to the grandmother's place, but I didn't really have a feel of who they were as individuals, or what they were like as a family. I think the clearest aspect of each of the members of Audrey's family was how incredibly affected they were by the mother's death. If all aspects of their characters had been as fleshed out, I really think that Hotel Ruby would have been a more relatable novel.
Young's writing style was engaging as ever, and I really do enjoy reading every single book of hers that I pick up. I know that I'm going to get a book that immerses me from the first word, and that was no different in Hotel Ruby. I always want to read every single one of Young's releases, which is a feat because there aren't many authors that I feel that way about.
If you're looking for a quick read with a mysterious twist, and some swoon worthy kisses, then I'd suggest you give Hotel Ruby a try.
© 2015, Chiara @ Books for a Delicate Eternity. All rights reserved.
warning: death by fire, death by car accident, death by stroke, attempted murder, physical assault, and suicide in this novel

Posted on: December 22, 2015 • By: Chiara