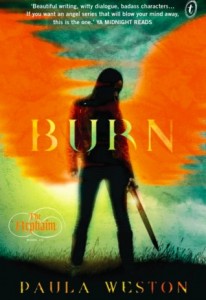 What: Burn (The Rephaim #4) by Paula Weston
Who: Text Publishing
When: June 24th 2015
How: A copy of this novel was provided by Text Publishing for review.
Gaby remembers everything.
For a year she believed she was a backpacker chilling out in Pandanus Beach. Working at the library. Getting over the accident that killed her twin brother.
Then Rafa came to find her and Gaby discovered her true identity as Gabe: one of the Rephaim. Over a hundred years old. Half angel, half human, all demon-smiting badass—and hopelessly attracted to the infuriating Rafa.
Now she knows who faked her memories, and how—and why it's all hurtling towards a massive showdown between the forces of heaven and hell.
More importantly, she remembers why she's spent the last ten years wanting to seriously hurt Rafa.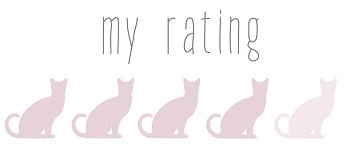 All the questions I had asked during the previous three The Rephaim books have been answered *cheering*
And a lot of them were totally unforeseen answers that just cemented this book as a totally awesome and badass angel series.
Gaby's memories have been returned to her. So she knows exactly who she was before "the accident" one year ago. She knows all there is about her half angelness. She knows why she and Jude didn't talk for ten years. She knows why she hated Rafa. She knows what happened a year ago. She knows a lot of shit.
And it doesn't really change her. I absolutely love that she is still the Gaby we have come to know and love, just a little better and fighting, and more sure of herself. She didn't suddenly become a hardass bitch like we had been led to believe she was before the accident. She was just the same … but a little different.
I'm glad that the basis for the hatred of Rafa wasn't anything too serious. I mean … in all reality it was Gaby overreacting. And this overreaction spread into almost everything. It got between her and Rafa and her and Jude. It was 100% not worth any of it, and Gaby pretty much came to this realisation herself, too.
A lot of stuff happens in Burn, but none of it felt over the top. Some characters could have done with a little more page time, some with a little less, but overall everything was pretty ace. I love the fact that Paula doesn't hold back with the swearing and sexy times. Seeing the characters swear a lot is awesome. Especially because they're not really teenagers and they're going through some shitty times. And the sexy times between Rafa and Gaby are … very sexy. They have always been, but I think this book is numero uno with the sexy times.
I wonder if Paula has some kind of intense fighting experience, because the action scenes in Burn were AMAZING. Seriously. There's heaps of fighting in this book, and it's great. It's never boring, and it's always intense. I don't know how she does it, but she does. So many kudos.
I feel like there should be another book, set in the future. There's this thing that's alluded to, and mentioned, and I feel so betrayed that there's not another book. I mean this thing is going to be HUGE and INTENSE, and seeing it (and what else has happened in the future of these characters) would be so epic. PLEASE, PAULA. WRITE THIS BOOK.
Anyway, if you've read the previous The Rephaim books you won't be disappointed in this conclusion. And if you haven't: read them now because they're awesome.
© 2015, Chiara @ Books for a Delicate Eternity. All rights reserved.

Posted on: July 1, 2015 • By: Chiara