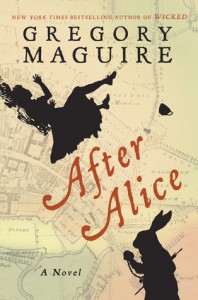 What: After Alice by Gregory Maguire
Who: Voyager Australia
When: October 1st 2015
How: A copy of this novel was provided by Harper Voyager Australia for review.
Down the rabbit hole, where adventures await.

From multimillion-copy bestselling author of WICKED Gregory Maguire comes a magical new twist on ALICE'S ADVENTURES IN WONDERLAND, published to coincide with the 150th anniversary of Lewis Carroll's beloved classic.

When Alice toppled down the rabbit hole 150 years ago, she found a Wonderland as rife with inconsistent rules and abrasive egos as the world she left behind. But what of that world? How did 1860s Oxford react to Alice's disappearance?

In this brilliant new work of fiction, Gregory Maguire turns his dazzling imagination to the question of underworlds, undergrounds, underpinnings-and understandings old and new, offering an inventive spin on Carroll's enduring tale. Ada, a friend of Alice's mentioned briefly in ALICE'S ADVENTURES IN WONDERLAND, is off to visit her friend but arrives a moment too late-and tumbles down the rabbit hole herself.

Ada brings to Wonderland her own imperfect apprehension of cause and effect as she embarks on an odyssey to find Alice and see her safely home from this surreal world below the world. The White Rabbit, the Cheshire Cat, the blood-thirsty Queen of Hearts-droll and imperious as always-interrupt their mad tea party to suggest a conundrum: If Eurydice can ever be returned to the arms of Orpheus, or if Lazarus can be raised from the tomb, perhaps Alice can be returned to life. Either way, everything that happens next is after Alice.
Why I Did Not Finish This Book
I tried to finish this. I tried to love this. But I couldn't do either. To be honest, I wanted to DNF after the first few pages, because I almost immediately knew that After Alice was not the book for me. Instead, I read until 52% and promptly gave up, because as the saying goes "so many books, so little time", and I wanted to spend the time it would have taken me to read the last 48% of this book reading something that did not pain me every time I read one word of it.
I did not finish After Alice because of a few reasons:
1) It wasn't what I was expecting. I thought this would be a lovely and whimsical novel following Alice's friend, Ada, as she tried to follow Alice around Wonderland. This was only a part of the novel. Yes, Ada does go down the rabbit hole and try to find Alice in Wonderland, but it was all very … by the book. There was nothing particularly new to it, and I was bored by everything Ada was doing.
There were also chapters about Alice's older sister, Lydia. I had no interest in these chapters, or the things that went on in these chapters, either. I didn't sign up to read about England in the 1800s.
2) The writing style. It was very hard to get into. It almost reads like a classic – a classic that is extremely boring, lacking in any and all emotion, and completely stiff to read.
3) The themes. I mean, I do understand that it was set in the 1800s, and people could be pretty prejudiced back then. But I couldn't stand the blatant racism and sexism. I wanted a whimsical fantasy, not a book where I'd be cringing in discomfort every few pages.
4) It was boring. Extremely so. Like I mentioned in point #1, there was a lot of journeying in Ada's chapters, which was pretty boring, and a lot of pondering in Lydia's chapters, which was equally boring. I honestly couldn't tell you what happened in the 52% of this novel I read because nothing happened.
~
Overall, I was super disappointed in the half of After Alice that I did read. I wanted a lot more than I received from it, and was pretty sad that it turned out nothing like what I imagined it would be.
© 2015, Chiara @ Books for a Delicate Eternity. All rights reserved.

Posted on: October 29, 2015 • By: Chiara