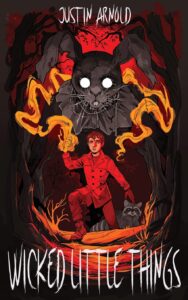 What: Wicked Little Things by Justin Arnold
Who: Tiny Ghost Press
When: November 15th 2022
How: A copy of this novel was provided by Tiny Ghost Press for review.
Join a coven.

Catch a killer.

Get a makeover…?

When his cousin is murdered, recently outed 16-year-old Dane Craven is forced to return to his unbearably small hometown of Jasper Hollow. It would be easy enough for him to keep his head down if it weren't for three inescapable facts.

One, Dane is a witch with fiery powers he has little ability to control.

Two, Dane thinks he's responsible for the death of his cousin.

And three, he's already been claimed by a coven of fashion-forward 'mean girls' desperate to give him a makeover.

Being the gay best friend to a trio of teenage witches wasn't ever high on Dane's list of aspirations, but fortunately for him these girls have the necromantic powers he needs to figure out who killed his cousin. Plus, he could do with some new clothes.

While on the hunt for his cousin's killer Dane discovers life in Jasper Hollow isn't all bad. There's the cute boy who works at the local coffee shop and enjoys long walks in the woods, for one.

But when the rabbit-faced killer comes for Dane, he'll be forced to come to terms with who he is and where he belongs before it's too late for him and everyone in Jasper Hollow.

Wicked Little Things is a queer YA horror book with a boy witch main character. I always want more boy witches in YA, and I always want more spec fic with boys in YA. So my heart was happy that Dane Craven was the hero of Wicked Little Things!
Dane had a wicked (see what I did there) sense of humour that was interspersed throughout the book. So even though there were a lot of heavy themes in the story, there were some light-hearted moments too. Dane never took himself too seriously, and it was an endearing character trait for me. I found myself rooting for Dane throughout the book, and I wanted him to come out okay at the end.
Dane's relationships with the people around him were some of the best parts of the book. Grant, his cousin, has been murdered, which is why Dane and his mum return to her home town of Jasper Hollow to begin with. Dane's relationship with Grant was messy and hard to define, and I thought this was really true to life. His relationship with his mum and his cousin were also realistic in that they weren't perfect, but the characters were always there for each other.
There is also a romance in Wicked Little Things between Dane and the local barista, EJ. I thought their relationship added moments of sweetness to the book, and I was definitely in their corner. They weren't always the best at communication but they are teenagers so this is understandable. I definitely want to learn more about EJ, and I'd love to see the two of them get to know each other more too, and also grow as a couple.
Even though I mentioned that there is humour in Wicked Little Things, the author did not hold back on the horror elements. The villain is a dude who wears rabbit skins and also sings a creepy little nursery rhyme about himself. He was spooky and added a lot to the horror atmosphere of the book. I liked that there was an illustration of him on the front cover because it really helped with the imagery, too!
The ending of Wicked Little Things really set itself up for a sequel, which I hope happens! I would read more of Dane's world and magic and relationships for sure.
© 2022, Chiara @ Books for a Delicate Eternity. All rights reserved.
trigger warning

homophobia, bullying (physical assault), violence, gore, murder, death, reference to conversion therapy, character outed, missing sibling of side character, reference to transphobia

Posted on: November 29, 2022 • By: Chiara