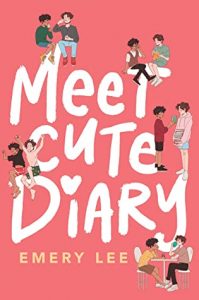 What: Meet Cute Diary by Emery Lee
Who: Quill Tree Books
When: May 4th 2021
How: A copy of this novel was provided by SparkPoint Studio.
Noah Ramirez thinks he's an expert on romance. He has to be for his popular blog, the Meet Cute Diary, a collection of trans happily ever afters. There's just one problem—all the stories are fake. What started as the fantasies of a trans boy afraid to step out of the closet has grown into a beacon of hope for trans readers across the globe.

When a troll exposes the blog as fiction, Noah's world unravels. The only way to save the Diary is to convince everyone that the stories are true, but he doesn't have any proof. Then Drew walks into Noah's life, and the pieces fall into place: Drew is willing to fake-date Noah to save the Diary. But when Noah's feelings grow beyond their staged romance, he realizes that dating in real life isn't quite the same as finding love on the page.

In this charming novel by Emery Lee, Noah will have to choose between following his own rules for love or discovering that the most romantic endings are the ones that go off script.
Meet Cute Diary was definitely one of my most anticipated reads of 2021. I've been following the author on Twitter for years, and was so excited when e announced e was getting eir book traditionally published. There has always been a lack of traditionally published own voices trans books, and even more so when it comes to trans characters of colour. Meet Cute Diary is own voices in both these regards, which is pretty darn exciting.
Noah, our protagonist, is a triracial – Afro-Caribbean, Japanese, and white – bisexual trans boy who is staying with his brother for the summer while his parents try and find a new house. This is pretty huge for Noah because he's leaving behind his only friend, but he also has the chance to kind of reinvent himself by getting away from all the unaccepting folks who knew him before he came out. He also has the chance to write some meet cutes for his Tumblr, Meet Cute Diary, which chronicles the (fictional) meet cutes of trans folks and their partners.
One of the important things to mention when it comes to Noah is that he's a very young sixteen. He doesn't have a bunch of self-insight, he's pretty self-absorbed sometimes, and he needs to grow up quite a bit. And there's nothing inherently wrong with that. Sixteen-year-old boys can be all of these things because they're not fully grown yet. They haven't had the time to grow out of these characteristics, and Noah is included in that. So while I'm okay with having a teen character be these things, I wish there had been a bit of character growth because this is a book, after all, and we live for character growth. But as it is, Noah remains pretty much the same throughout the entire novel with only the barest hints that he's realizing his behaviour isn't always the greatest.
At the beginning of every chapter of Meet Cute Diary there is a post either from or about Noah's blog, Meet Cute Diary. The blog plays a pretty large role in the novel because it's how Noah meets his beau, Drew. I loved how the blog and its importance was incorporated into the story because many teens have an offline and online life, and they don't always converge easily or at all. When I was a teen, my Tumblr was hugely important to me, and  yet there is still a lack of how these things can be incredibly important and validating for teens today, which is kind of unrealistic if you think about it.
Now, on to the romance. There is a kind of love triangle, with Noah being in two different relationships during the book. One love interest is most definitely the better option, even though the other seemed great in the beginning. I feel like both relationships moved a little fast, and it was difficult to really get on board with the romances. I would have loved to see more time between Noah and who he ends up with because I needed that to be full-on behind their relationship, and as it was I was left wanting more.
One of the best things about Meet Cute Diary was the discussion of queerness from Noah, and also from his friend, Devin, who goes through eir own journey of self-discovery throughout the book. Devin is also one of the love interests for Noah, which I think is important to mention, because Devin is non-binary. So often there are books with trans protagonists who find love with cis people (which happens), but trans folks also find love with other trans folks, and it is just so lovely to see that in Meet Cute Diary.
As I'm typing, I realise I all the other positive things I could write about: the fact that transphobia isn't an integral focus of the story, that Noah and Devin introduce pronouns to a bunch of under 13s at summer camp, and that Noah's brother is so supportive and awesome. I guess now I've mentioned them, which was my intention all along *sunglasses emoji*
© 2021, Chiara @ Books for a Delicate Eternity. All rights reserved.
trigger warning

misgendering, emotional manipulation, vomiting, panic attacks (secondary character), reference to suicide attempt, talk of suicidality, transphobia, online bullying, reference to bullying

Posted on: April 24, 2021 • By: Chiara