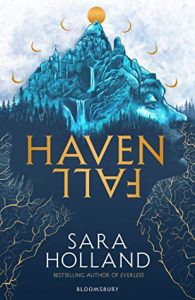 What: Havenfall by Sara Holland
Who: Bloomsbury YA
When: March 3rd 2020
How: A copy of this novel was provided by Bloomsbury Australia for review.
Summers at Havenfall's famous Inn are Maddie Marrow's only solace from her dysfunctional existence. But the Inn is much more than a hotel, and life in Havenfall isn't without its secrets. Beneath the beautiful, sprawling manor in Colorado lie hidden gateways to other worlds, some long-sealed by ancient magic.

When a body is found on the grounds, the volatile peace brokered between these worlds is irrevocably compromised. What's worse is that Maddie's friend Brekken stands accused of the murder. With everything she loves at stake, Maddie must confront shocking truths about the dangers lurking beneath Havenfall – and discover who she really is.

This sweeping new series, perfect for fans of Sarah J. Maas, Melissa Albert and Holly Black, is sure to enthrall readers old and new.
Havenfall honestly felt like a prologue of a book. I feel like perhaps the two books in the series could have been combined into one 500 page book and it would have made more sense. As it stands, Havenfall fell mostly flat for me because I was just waiting for the story to really get going and it never quite did.
The premise of Havenfall is that there is an inn on Earth (or Haven as it's called in the book) and within this inn there are doorways to all the other worlds that exist. But only two doors remain open out of the hundreds (thousands?) of original doors, and a third door was forcibly closed because of a war that happened roughly a hundred years ago. Once every year the remaining two doors open and there is a worlds' summit held at the inn: Havenfall.
This idea, as well as the fact that the protagonist is bisexual, had me so excited. I love the idea of other worlds existing, and I am always here for queer YA fantasy. But there was just nothing exciting about Havenfall at all. The premise remains unique but the execution left something to be desired.
One of the reasons Havenfall felt so sluggish is because it was very repetitive. Maddie's internal monologue goes over the same things over and over and over again. The death of her brother, wanting to be innkeeper, how wonderful her summers at Havenfall are, how she can't believe someone close to her betrayed her. I actually don't understand why these things were brought up over and over if there was nothing new to add to each reoccurrence. It just left me feeling bored when I assume it was supposed to make me feel something.
There are two love interests in Havenfall however I would say that the book is quite light on romance overall. Maddie is in love with her best friend, Brekken, but instead of seeing that we're told from the get go that's how it is. And there are random flashbacks to their amazing times together in the past that just felt like a ploy to get me to care about Brekken, and also Brekken and Maddie's relationship. I honestly don't mind being told someone is in love with their best friend, but I need some real time interactions to get invested, not just flashbacks to before the book started.
I could go on about other things that didn't quite add up for me: Maddie being sixteen and yet also not having the "voice" of a sixteen year old – it would have made more sense for her to be older, in my opinion. The villain being 100% predictable and not scary or villainous at all except "I'm power hungry mwahaha". The random addition of a black market trade that was one thing and then another and oh, hey there's a child with her life being siphoned out of her but we'll leave that for the next book. Maddie saying she's ~changed~ when it's literally been like three days. And more, but I think you get the gist.
In the end I was super disappointed in Havenfall. It wasn't anything like I wanted or expected it to be and I was left bereft by yet another mediocre YA fantasy.
© 2020, Chiara @ Books for a Delicate Eternity. All rights reserved.
trigger warning

reference to death/murder of brother, blood and gore, kidnapping, attempted murder (drowning), multiple deaths, parent in prison (death row), child abuse

Posted on: March 3, 2020 • By: Chiara