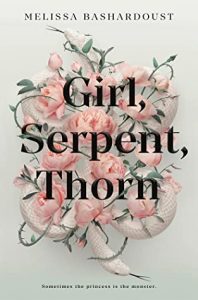 What: Girl, Serpent, Thorn by Melissa Bashardoust
Who: Flatiron Books
When: July 7th 2020
How: A copy of this novel was provided by Flatiron Books for review.
A captivating and utterly original fairy tale about a girl cursed to be poisonous to the touch, and who discovers what power might lie in such a curse…

There was and there was not, as all stories begin, a princess cursed to be poisonous to the touch. But for Soraya, who has lived her life hidden away, apart from her family, safe only in her gardens, it's not just a story.

As the day of her twin brother's wedding approaches, Soraya must decide if she's willing to step outside of the shadows for the first time. Below in the dungeon is a demon who holds knowledge that she craves, the answer to her freedom. And above is a young man who isn't afraid of her, whose eyes linger not with fear, but with an understanding of who she is beneath the poison.

Soraya thought she knew her place in the world, but when her choices lead to consequences she never imagined, she begins to question who she is and who she is becoming…human or demon. Princess or monster.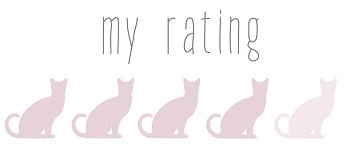 It is no small fact that I absolutely adored Bashardoust's debut novel, Girls Made of Snow and Glass. It was one of my favourite books of that year and I still love and recommend it to this day. So to say I was excited for Girl, Serpent, Thorn is an understatement. And then when I was invited to be on the blog tour? Massive blogging moment for me!
I can happily say that I loved Girl, Serpent, Thorn. It did not disappoint me in the slightest, and I loved every word in this book. I am so happy that Bashardoust is revolutionising YA fairytale retellings to include queer girls because they have been missing out for far too long.
Girl, Serpent, Thorn follows Soraya, a bisexual girl of colour who is poisonous to the touch. Every living thing, except plant life, dies when she touches it. This curse of hers means that everyone, including her own family, leaves her alone. The decisions Soraya makes in the rest of the novel all stem from this lack of care and love. Even her own mother leaves Soraya alone for months on end and only talks about superficial gossip. It's a hard and cruel life Soraya has lived so it's no wonder she makes the choices she does in order to break the chains of the live she has been living.
There is somewhat of a love triangle in Girl, Serpent, Thorn and I must say that the execution was incredible. Even the way Soraya explains her feelings for both of her love interests is just beautiful. One is a fire, and one is a burning ember. I was of course rooting for the love interest who was ~better~ for Soraya, but I would be lying if I didn't say there was a part of me that wanted Soraya and her darker, more twisted love interest to succeed just so I could see what would become of it.
The writing in Girl, Serpent, Thorn was absolutely divine, and what I have now come to expect from any novel Bashardoust writes in the future. Even though it is third person there is something so evocative in her writing that makes it connect in just about the same way as first person does. But on top of that it also has a storytelling, fairytale element to it that is completely its own and completely divine.
I could waffle on for quite a while about how much I enjoyed Girl, Serpent, Thorn and all the reasons why you should read it. But in the end it's simple. You should read Girl, Serpent, Thorn because it is a bloody good book. If you like fairytale retellings, YA fantasy, sweeping romance, and queer fiction then you simply must read Girl, Serpent, Thorn.
© 2020, Chiara @ Books for a Delicate Eternity. All rights reserved.
trigger warning

war themes, abduction, emotional abuse, physical fights (minor blood and gore), multiple deaths, reference to death of father

Posted on: July 14, 2020 • By: Chiara