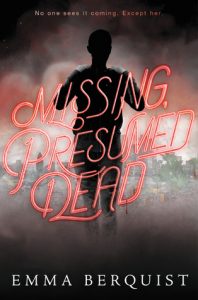 What: Missing, Presumed Dead by Emma Berquist
Who: Greenwillow Books
When: May 21st 2019
How: A copy of this novel was provided by HarperCollins for review via Edelweiss.
Nell Crane has always been an outsider. In a city devastated by an epidemic, where survivors are all missing parts—an arm, a leg, an eye—her father is the famed scientist who created the biomechanical limbs everyone now uses. But Nell is the only one whose mechanical piece is on the inside: her heart. Since the childhood operation, she has ticked. Like a clock, like a bomb. As her community rebuilds, everyone is expected to contribute to the society's good . . . but how can Nell live up to her father's revolutionary idea when she has none of her own?

Then she finds a mannequin hand while salvaging on the beach—the first boy's hand she's ever held—and inspiration strikes. Can Nell build her own companion in a world that fears advanced technology? The deeper she sinks into this plan, the more she learns about her city—and her father, who is hiding secret experiments of his own.
There are five things you should know about Missing, Presumed Dead and here they are:
1) It tries a little too hard
In all honesty I almost DNFd Missing, Presumed Dead because of this aspect. I felt like it was just trying way too hard to be dark and edgy and instead came off as the opposite. I feel like a book shouldn't have to try to be dark and edgy… that it should just be dark and edgy without a reader having to be told over and over. But as time went on I feel like the author settled into the atmosphere of the book a bit more and didn't push these things on the reader as much. I really feel like the beginning could have used some editing in this regard because I did have to push through.
2) The main character is bisexual
Which I somehow knew when I requested this book months ago??? My ability to determine whether a book is going to be queer is on point. But anyway, YES, the main character in this is bi and I absolutely loved how her sexuality was revealed but I won't give too many details because it's pretty suave.
3) It's quite gory
The themes in this book are pretty damn intense so you should probably know that going in. There's lots of murder and references to different deaths because the main character sees how a person dies if she touches them. So yeah, this book is kind of all about the death.
4) There's an f/f romance
It's pretty obvious from the synopsis that our main character, Lexi, falls for Jane, the ghost of a girl she couldn't save. This romance is such a lovely slow burn, and by far my favourite aspect of the book. I just loved how they interacted, and how the two of them went from friends to lovers (which almost beats enemies to lovers, in my opinion). Their relationship wasn't easy by any means but I think that made me more invested in it.
5) It's a paranormal book
Now I guess this might come across as obvious but I don't think it is. I feel like most books nowadays about a main character with a magical power are just contemporaries with a little dash of magic that only the main character receives. But Missing, Presumed Dead is an actual straight up paranormal novel and just YES. I miss paranormal so it was great to see the secondary characters have their own magical powers, and to have an entire magical community in this book.
~
All in all, Missing, Presumed Dead was an enjoyable book. I'm definitely glad I didn't DNF it because I would have missed out on the great romance as well as all the paranormal happenings. I think if you're keen on a book that's part queer love story, part murder mystery, part magic then you probably need to give Missing, Presumed Dead a go.
© 2019, Chiara @ Books for a Delicate Eternity. All rights reserved.
trigger warning

reference to death of mother, multiple murders, blood and gore, death themes, self check in at psychiatric hospital, drug use (psychotics, not clear if prescribed or not), self harm

Posted on: June 4, 2019 • By: Chiara