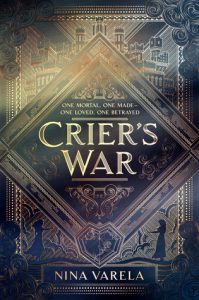 What: Crier's War (Crier's War #1) by Nina Varela
Who: HarperTeen
When: August 27th 2019
How: A copy of this novel was provided by HarperTeen for review via Edelweiss.
After the War of Kinds ravaged the kingdom of Rabu, the Automae, designed to be the playthings of royals, usurped their owners' estates and bent the human race to their will.

Now Ayla, a human servant rising in the ranks at the House of the Sovereign, dreams of avenging her family's death…by killing the sovereign's daughter, Lady Crier.

Crier was Made to be beautiful, flawless, and to carry on her father's legacy. But that was before her betrothal to the enigmatic Scyre Kinok, before she discovered her father isn't the benevolent king she once admired, and most importantly, before she met Ayla.

Now, with growing human unrest across the land, pressures from a foreign queen, and an evil new leader on the rise, Crier and Ayla find there may be only one path to love: war.
2019 is not working out to be the best reading year for me. It's not like I haven't been excited for the books I've read because I have.  But there's just something going down this year and I haven't really fallen in love with any book. And Crier's War didn't break this 2019 reading curse, unfortunately.
The main thing I wanted from Crier's War was more. The story is one of enemies to lovers, in which two young women on either side of a war fall in love. Now, I thought I would be all over this like a rash because I love enemies to lovers and it's not something we see all that much of in queer books. So I was heckin' keen. However, I never really saw the progression on Ayla's side from vehemently wanting to kill Crier because of what Crier's father had done to Ayla's family to… wanting to kiss Crier. Those two actions are polar opposite and so for me to believe that someone can go from wanting to murder a person to wanting to then kiss that person there needs to be a lot of relationship and character development. Which there wasn't.
From practically the first moment Ayla and Crier lay eyes on each other they're into one another. And I know that this can happen but when Ayla wanted nothing more than Crier's blood on her hands five seconds prior I found it just too easy. I think it might have been better if Ayla's desires had been more of the political revenge kind than the murder revenge kind because it would have made more sense for her to be only mildly conflicted about her attraction and feelings for the daughter of the man who was responsible for the death of her family.
Even if I could get beyond the extremely swift change of heart on Ayla's behalf, I would have needed some great build up of Ayla and Crier's relationship. I would have needed moments of them doing mundane things together and getting to know each other. And yet these were the scenes that were missing. I was told about scenes that were more subtle in nature than the ones that were on page but these were not enough for me. I really needed to see these two characters fall for each other slowly and deeply but I didn't. Which left me pretty ambivalent to a lot of the romantic angst in Crier's War.
Other aspects of Crier's War were enjoyable, however I would have liked the history of the automatons and humans to be sprinkled throughout the novel rather than given to me on a timeline, which I found incredibly hard to follow and couldn't easily flip back to in my e-ARC copy of the book. So: more back story. I also would have liked a little more of the political aspect of the story because I did like what was included but it was overshadowed by Crier's feelings about her father dismissing her ambitions and contributions.
All in all, Crier's War was good. I didn't fall in love, but I didn't want to DNF it and walk away, either. I did, however, just want more from the story in almost every aspect. I am pretty certain I'll read the sequel because I would like to know what happens in the end.
© 2019, Chiara @ Books for a Delicate Eternity. All rights reserved.
trigger warning

Fire, murder of friend, murder of family, multiple deaths, physical assault, civil unrest, graphic descriptions, and use ableist language

Posted on: October 21, 2019 • By: Chiara