Books for Life is where I share bookish lists, recommendations, and favourites. You can also catch me talking about non-bookish things here, as well as my life outside of blogging. Today I'm talking about…
#OwnVoices Gay YA Books of 2019
As much as there is talk about how queer YA (and queer lit in general) has a general focus on queer boys and men, there are also conversations around how these books about queer boys and men are mostly written by women. And how the critically acclaimed and most popular queer boy YA is also written by women. So I thought I would make a list of gay YA written by gay men. And I made the list specifically for 2019 because supporting these books sends a great message to publishers that #OwnVoices gay YA is wanted and needed. Here they are:
The Black Flamingo by Dean Atta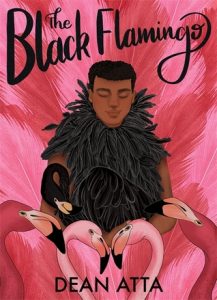 Fiercely told, this is a timely coming-of-age story, told in verse about the journey to self-acceptance. Perfect for fans of Sarah Crossan, Poet X and Orangeboy.

A boy comes to terms with his identity as a mixed-race gay teen – then at university he finds his wings as a drag artist, The Black Flamingo. A bold story about the power of embracing your uniqueness. Sometimes, we need to take charge, to stand up wearing pink feathers – to show ourselves to the world in bold colour.
Ziggy, Stardust and Me by James Brandon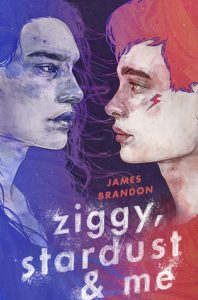 The year is 1973. The Watergate hearings are in full swing. The Vietnam War is still raging. And homosexuality is still officially considered a mental illness. In the midst of these trying times is sixteen-year-old Jonathan Collins, a bullied, anxious, asthmatic kid, who aside from an alcoholic father and his sympathetic neighbor and friend Starla, is completely alone. To cope, Jonathan escapes to the safe haven of his imagination, where his hero David Bowie's Ziggy Stardust and dead relatives, including his mother, guide him through the rough terrain of his life. In his alternate reality, Jonathan can be anything: a superhero, an astronaut, Ziggy Stardust, himself, or completely "normal" and not a boy who likes other boys. When he completes his treatments, he will be normal—at least he hopes. But before that can happen, Web stumbles into his life. Web is everything Jonathan wishes he could be: fearless, fearsome and, most importantly, not ashamed of being gay.

Jonathan doesn't want to like brooding Web, who has secrets all his own. Jonathan wants nothing more than to be "fixed" once and for all. But he's drawn to Web anyway. Web is the first person in the real world to see Jonathan completely and think he's perfect. Web is a kind of escape Jonathan has never known. For the first time in his life, he may finally feel free enough to love and accept himself as he is.
Such Wicked Things by Richard Cardenas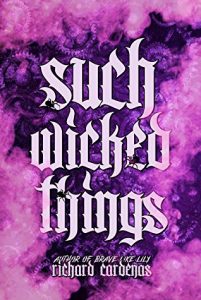 Teenage couple Julian Salazar and Ezra Langston are engaged and everything is going perfectly as planned… until they arrive home to be married at Julian's family estate and all hell breaks loose. Julian's best friend, Luke, still has feelings for him and upon hearing of Julian's impending marriage, he turns to a local sorcerer and devices a disturbing plan to put a spell on the love of his life.

While carrying out his own demented plan to turn the entire town of Mistwood Falls into zombies, dark sorcerer Alistair Graves, becomes infatuated with a new arrival in town… and it just so happens to be Julian. Alistair wants the boy for his personal collection and nothing is going to stop him.
Ghosting You by Alexander C. Eberhart

Tommy hears dead people. Okay, one dead person. His best friend, Chase. Since his death, Tommy can't stop hearing his voice. They talk every day and Tommy even sends him texts, but it always ends the same. Message failed to send. Until one day, a stranger texts back.Getting stuck in nowhere Georgia was not on Nick's summer agenda, but a horoscope, a chance encounter, and a cute boy has things looking up. There's just one problem, the boy hates him. When a broken phone leaves him with a new number, Nick is ready to write off the entire summer as a loss. But then he receives a strange text.When Tommy and Nick's worlds collide, the attraction is instant, but Tommy just can't let Chase go. Can Nick use his status as Tommy's anonymous stranger to break down his defenses or is Nick destined to live in a love triangle with a ghost?
Lock and West by Alexander C. Eberhart

Note To Self: Just Don't Be Weird

Lock is awkward. He can't make eye contact, counts when he's nervous and has to remind himself several times a day how 'normal' teens behave. Homeschooled most of his life, he's resigned himself to a friendless existence at his new Atlanta high school.

Until he meets West.

List Of Reasons Why My Life Is A Mess: How Much Time Do You Have?

West has everything. Looks. Talent. Money. And secrets… so many secrets. Beneath the surface of West's perfect existence is a pain he's buried so deep a million therapists couldn't unearth it and he's determined to keep it that way. He's an actor. He can act normal.

But then there's Lock.

Sometimes Two Wrongs Can Be Right

They don't fit. Their lives are equal but opposite disasters and the universe just keeps throwing obstacles in their path. Every time they are together they find it harder to say goodbye, harder to keep their secrets, harder not to lean on each other. But for this relationship to have a fighting chance, the two must stop trying to re-write the past and start figuring out how to build a future… together.
Alex in Wonderland by Simon James Green

In the town of Newsands, painfully shy Alex is abandoned by his two best friends for the summer. But he unexpectedly lands a part-time job at Wonderland, a run-down amusement arcade on the seafront, where he gets to know the other teen misfits who work there. Alex starts to come out of his shell, and even starts to develop feelings for co-worker Ben… who, as Alex's bad luck would have it, has a girlfriend.

Then as debtors close in on Wonderland and mysterious, threatening notes start to appear, Alex and his new friends take it on themselves to save their declining employer. But, like everything in Wonderland, nothing is quite what it seems…
The Past and Other Things That Should Stay Buried by Shaun David Hutchinson

A good friend will bury your body, a best friend will dig you back up.

Dino doesn't mind spending time with the dead. His parents own a funeral home, and death is literally the family business. He's just not used to them talking back. Until Dino's ex-best friend July dies suddenly—and then comes back to life. Except not exactly. Somehow July is not quite alive, and not quite dead.

As Dino and July attempt to figure out what's happening, they must also confront why and how their friendship ended so badly, and what they have left to understand about themselves, each other, and all those grand mysteries of life.
The Music of What Happens by Bill Konigsberg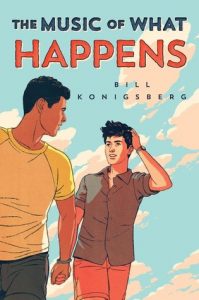 Max: Chill. Sports. Video games. Gay and not a big deal, not to him, not to his mom, not to his buddies. And a secret: An encounter with an older kid that makes it hard to breathe, one that he doesn't want to think about, ever.

Jordan: The opposite of chill. Poetry. His "wives" and the Chandler Mall. Never been kissed and searching for Mr. Right, who probably won't like him anyway. And a secret: A spiraling out of control mother, and the knowledge that he's the only one who can keep the family from falling apart.

Throw in a rickety, 1980s-era food truck called Coq Au Vinny. Add in prickly pears, cloud eggs, and a murky idea of what's considered locally sourced and organic. Place it all in Mesa, Arizona, in June, where the temp regularly hits 114. And top it off with a touch of undeniable chemistry between utter opposites.

Over the course of one summer, two boys will have to face their biggest fears and decide what they're willing to risk — to get the thing they want the most.

Reverie by Ryan La Sala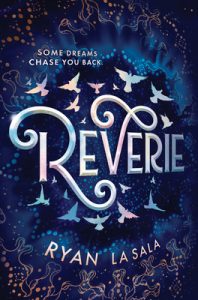 All Kane Montgomery knows for certain is that the police found him half-dead in the river. He can't remember how he got there, what happened after, and why his life seems so different now. And it's not just Kane who's different, the world feels off, reality itself seems different.

As Kane pieces together clues, three almost-strangers claim to be his friends and the only people who can truly tell him what's going on. But as he and the others are dragged into unimaginable worlds that materialize out of nowhere—the gym warps into a subterranean temple, a historical home nearby blooms into a Victorian romance rife with scandal and sorcery—Kane realizes that nothing in his life is an accident. And when a sinister force threatens to alter reality for good, they will have to do everything they can to stop it before it unravels everything they know.

This wildly imaginative debut explores what happens when the secret worlds that people hide within themselves come to light.

Red Skies Falling (Skybound #2) by Alex London

In this thrilling sequel to Black Wings Beating, twins Kylee and Brysen are separated by the expanse of Uztar, but are preparing for the same war – or so they think.

Kylee is ensconsed in the Sky Castle, training with Mem Uku to master the Hollow Tongue and the Ghost Eagle. But political intrigue abounds and court drama seems to seep through the castle's stones like blood from a broken feather. Meanwhile, Brysen is still in the Six Villages, preparing for an attack by the Kartami. The Villages have become Uztar's first line of defense, and refugees are flooding in from the plains. But their arrival lays bare the villagers darkest instincts. As Brysen navigates the growing turmoil, he must also grapple with a newfound gift, a burgeoning crush on a mysterious boy, and a shocking betrayal.

The two will meet again on the battlefield, fighting the same war from different sides―or so they think. The Ghost Eagle has its own plans.

Destroy All Monsters by Sam J. Miller

Solomon and Ash both experienced a traumatic event when they were twelve.

Ash lost all memory of that event when she fell from Solomon's treehouse. Since then, Solomon has retreated further and further into a world he seems to have created in his own mind. One that insulates him from reality, but crawls with foes and monsters . . . in both animal and human form.

As Solomon slips further into the place he calls Darkside, Ash realizes her only chance to free her best friend from his pain is to recall exactly what happened that day in his backyard and face the truth—together.

Fearless and profound, Sam J. Miller's follow up to his award-winning debut novel, The Art of Starving, spins an intimate and impactful tale that will linger with readers.

Swipe Right For Murder by Derek Milman

On the run from the FBI.
Targeted by a murderous cult.
Labeled a cyber-terrorist by the media.
Irritated texts from his best friend.
Eye contact with a nice-looking guy on the train.
Aidan has a lot to deal with, and he's not quite sure which takes top priority.

Finding himself alone in a posh New York City hotel room for the night, Aidan does what any red-blooded seventeen-year-old would do—he tries to hook up with someone new. But that lapse in judgement leads to him waking up next to a dead guy, which sparks an epic case of mistaken identity that puts Aidan on the run from everyone—faceless federal agents, his eccentric family, and, naturally, a cyber-terrorist group who will stop at nothing to find him.

He soon realizes the only way to stop the chase is to deliver the object everyone wants, before he gets caught or killed. But for Aidan, the hardest part is knowing who he can trust not to betray him—including himself.

Keep This to Yourself by Tom Ryan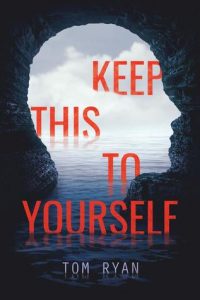 It's been a year since the Catalog Killer terrorized the sleepy seaside town of Camera Cove, killing four people before disappearing without a trace. Like everyone else in town, eighteen-year-old Mac Bell is trying to put that horrible summer behind him—easier said than done since Mac's best friend Connor was the murderer's final victim. But when he finds a cryptic message from Connor, he's drawn back into the search for the killer—who might not have been a random drifter after all. Now nobody—friends, neighbors, or even the sexy stranger with his own connection to the case—is beyond suspicion. Sensing that someone is following his every move, Mac struggles to come to terms with his true feelings towards Connor while scrambling to uncover the truth.
Invisible Boys by Holden Sheppard

In a small town, everyone thinks they know you: Charlie is a hardcore rocker, who's not as tough as he looks. Hammer is a footy jock with big AFL dreams, and an even bigger ego. Zeke is a shy over-achiever, never macho enough for his family. But all three boys hide who they really are. When the truth is revealed, will it set them free or blow them apart?

Invisible Boys is a raw, confronting YA novel, tackling homosexuality, masculinity, anger and suicide with a nuanced and unique perspective. Set in regional Western Australia, the novel follows three sixteen-year-old boys in the throes of coming to terms with their homosexuality in a town where it is invisible – and so are they. Invisible Boys depicts the complexities and trauma of rural gay identity with painful honesty, devastating consequence and, ultimately, hope.

Me Myself and Him by Chris Tebbetts

When Chris Schweitzer takes a hit of whippets and passes out face first on the cement, his nose isn't the only thing that changes forever. Instead of staying home with his friends for the last summer after high school, he's shipped off to live with his famous physicist but royal jerk of a father to prove he can "play by the rules" before Dad will pay for college.

Or . . . not.

In an alternate time line, Chris's parents remain blissfully ignorant about the accident, and life at home goes back to normal–until it doesn't. A new spark between his two best (straight) friends quickly turns Chris into a (gay) third wheel, and even worse, the truth about the whippets incident starts to unravel. As his summer explodes into a million messy pieces, Chris wonders how else things might have gone. Is it possible to be jealous of another version of yourself in an alternate reality that doesn't even exist?

With musings on fate, religion, parallel universes, and the best way to eat a cinnamon roll, Me Myself & Him examines how what we consider to be true is really just one part of the much (much) bigger picture.

How to Be Remy Cameron by Julian Winters

Everyone on campus knows Remy Cameron. He's the out-and-gay, super-likable guy that people admire for his confidence. The only person who may not know Remy that well is Remy himself. So when he is assigned to write an essay describing himself, he goes on a journey to reconcile the labels that people have attached to him, and get to know the real Remy Cameron.


Have you read any of these? Or know of any other #OwnVoices gay YA published this year? Let me know below!


Posted on: November 12, 2019 • By: Chiara