Books for Life is where I share bookish lists, recommendations, and favourites. You can also catch me talking about non-bookish things here, as well as my life outside of blogging. Today I'm talking about…
books i've preordered recently
The Book Depository sent me a 10% discount voucher and I had been keeping my eye on a few things I knew were coming out soon (or soonish) that I needed in my possession as soon as they were available. So I made some preorders!! *cheering* And here's what I got:
The Gentleman's Guide to Getting Lucky by Mackenzi Lee
Why: Because it's about Monty and Percy, duh!! I already have a printed copy of this that came with a YA Chronicles box but I also needed this gorgeous updated version in hardback to match the rest of the series. Also, I still haven't read that printed copy as the font is so small so this will be a beautiful copy to read *heart eyes*
Find Me by Tahereh Mafi
Why: Because it's the Shatter Me series, y'all!! And I really hope they make the cover this gorgeous purple thing because that would make me so happy. Even though I wasn't the hugest fan of the latest book this series still owns my heart so of course I preordered Find Me.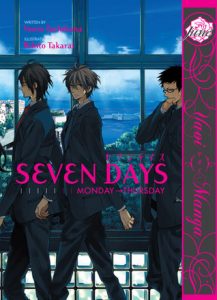 Seven Days: Monday-Sunday by Venio Tachibana (illustrated by Rihito Takarai)
Why: If y'all know anything about small yaoi presses then you know that things become available for a hot second before they're out of print again. I was lucky enough to get the first volume of this series from the small press June Manga but was unable to ever get the second volume because of timezones *scratches nails down chalkboard* SuBLime Manga has now bought the rights and is releasing an omnibus edition with both volumes!! So I bought it because it is painful to only have the first half of this story in print.
Idol Dreams Volume 6 by Arina Tanemura
Why: Arina Tanemura wrote my all time favorite manga series – Full Moon – so I will devour anything she writes. Also, this manga is weird but I enjoy it. And the ending of volume five was heartbreaking and I have no idea how the managaka is going to bring about the happily ever after that is expected of shojo manga!

Have you got any of these on preorder or your TBR? What book/s do you have on preorder? What book/s would you like to preorder?


Posted on: May 21, 2019 • By: Chiara