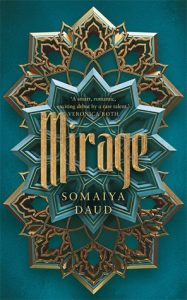 What: Mirage (Mirage #1) by Somaiya Daud
Who: Hodder & Stoughton
When: August 28th 2018
How: A copy of this novel was provided by Hachette Australia for review.
The crown of Dihya had been stripped from me, my face changed, my body broken.
But I was not a slave and I was not a spare.
I was my mother's daughter, and I would survive and endure. I would find my way back home.

In a star system dominated by the brutal Vathek empire, eighteen-year-old Amani is a dreamer. She dreams of what life was like before the occupation, and of receiving a sign from Dihya that one day, she, too, will have adventures, and travel beyond her isolated moon.

But when adventure comes for Amani, it is not what she expects: she is kidnapped and taken in secret to the royal palace, where she discovers that she is nearly identical to the cruel half-Vathek Princess Maram. The princess is so hated by her conquered people that she requires a body double to appear in public, ready to die in her place.

As Amani is forced into her new role, she can't help but enjoy the palace's beauty—and her time with the princess' fiancé, Idris. But the glitter of the royal court belies a world of violence and fear and if Amani ever wishes to see her family again, she must play the princess to perfection… because one wrong move could lead to her death.
Mirage hadn't really been on my radar before a review copy arrived from Hachette, but once I read the blurb I knew it was something that I'd be keen on reading. So not long after, I picked it up. And I practically flew through it.
I think one of the most interesting things about Mirage is that it reads like a fantasy, even though it's a sci-fi. The only true indications of sci-fi-ness are almost unimportant to the plot. I think if some of the technology used had been replaced by magic Mirage could have easily been a YA fantasy book. But it is a sci-fi, and I found it quite interesting how many times I'd forget that when reading it, and instead thinking that I was enjoying a fantasy debut.
Speaking of, I certainly did enjoy Mirage. I liked the main character, the premise, and the setting. I liked the romance. I liked that there was a subtle focus on poetry. I liked quite a lot of things about this book. But it never quite reached anything beyond likeable. There were so many tropes in Mirage that I have just read far too many times to feel as invested as I probably should have. But in saying that, I have years and hundreds upon hundreds of YA books behind me so these tropes and reveals might shock and excite other readers, especially teen ones.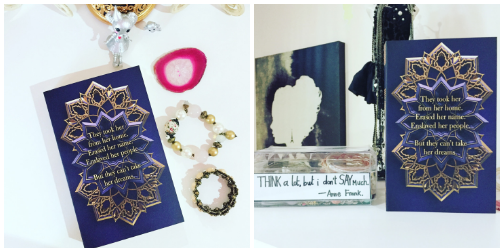 One of the things that I did enjoy most about Mirage was the Moroccan-inspired elements. So many YA books are heavily white-European-inspired, and it was exciting to read a book that really broke away from this and introduced elements that haven't been written to death in YA. These Moroccan-inspired aspects of Mirage were some of the most immersive parts of the book, and I absolutely loved reading them.
The main character, Amani, is extremely passionate about her goddess and I absolutely adored this. I loved her pure and unwavering adoration for her, and I loved how she turned to her in times of need. Amani has a pretty tough time during most of Mirage, but throughout she remains strong. And not in that robotic way that we see so often in YA, where the heroine shuts off all feelings in order to remain stoic. In Mirage Amani remains strong by thinking about her family, and her goddess, and her poetry. She remains strong by falling in love and befriending those who would see her fall. I liked this about her, and I think it sends a good message about the different ways young women can be strong.
All in all, Mirage was a book I very much liked. Even though I was never quite blown away by it, I enjoyed every second of my time spent reading its pages. I am certainly looking forward to next book in the series!
© 2018, Chiara @ Books for a Delicate Eternity. All rights reserved.
trigger warning

abduction, colonialist themes, racism, abuse, physical assault, attempted murder, hostage situation, poverty themes, war themes, use of ableist language, romantic cheating

Posted on: September 4, 2018 • By: Chiara