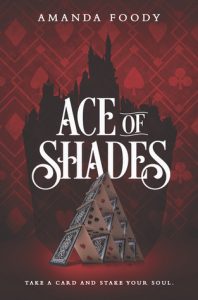 What: Ace of Shades (The Shadow Game #1) by Amanda Foody
Who: HQ Young Adult
When: April 23rd 2018
How: A copy of this novel was provided by Harlequin Teen Australia for review.
Welcome to the City of Sin, where casino families reign, gangs infest the streets… and secrets hide in every shadow.

Enne Salta was raised as a proper young lady, and no lady would willingly visit New Reynes, the so-called City of Sin. But when her mother goes missing, Enne must leave her finishing school—and her reputation—behind to follow her mother's trail to the city where no one survives uncorrupted.

Frightened and alone, her only lead is a name: Levi Glaisyer. Unfortunately, Levi is not the gentleman she expected—he's a street lord and a con man. Levi is also only one payment away from cleaning up a rapidly unraveling investment scam, so he doesn't have time to investigate a woman leading a dangerous double life. Enne's offer of compensation, however, could be the solution to all his problems.

Their search for clues leads them through glamorous casinos, illicit cabarets and into the clutches of a ruthless mafia donna. As Enne unearths an impossible secret about her past, Levi's enemies catch up to them, ensnaring him in a vicious execution game where the players always lose. To save him, Enne will need to surrender herself to the city…

And she'll need to play.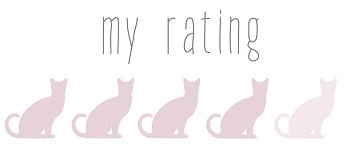 First things first: I thoroughly enjoyed Ace of Shades. And here are five reasons why:
1) Levi, one of the two POV MCs, is a bisexual black boy
CAN YOU HEAR ME SCREAMING? I didn't know about this until just before is started reading Ace of Shades, and now I will be shouting it from the rooftops. Bi boys are so rare in any genre of YA, and to be honest, the same can be said for black boys. As for bi black boys? I don't think I've ever read about one before now, which is truly saddening. (I hope one day I can read an #ownvoices story!)
Levi Glaisyer is just darn special. I don't even know where to start? He cares a lot, but pretends he doesn't. He's out and proud about his sexuality. He's trying to do something good by doing something bad. He wants to be better and provide for those around him. Levi was the perfect blend between total bad boy and soft boy, and I adored him.
2) Enne, the other POV MC, was… different
I say different because at the start of Ace of Shades I didn't like Enne at all. I thought she was pompous, bordering on ridiculous. But throughout the course of the book Enne grows so much as character. She gains strength she didn't know she had, she faces things she never thought she'd face. Girl got fierce, and I absolutely loved her character arc in Ace of Shades. She started off as a sheltered schoolgirl, and even when things scared her she was willing to do whatever it took to find her mother again. Kudos.
3) The romance was non-existent and also slow burn
I would not say that the romance in Ace of Shades took over any part of the plot. It was hardly there at all, really, and I loved this. There's a bit of pining from both sides, but neither of them believe that the other likes them and this is painful??? Why are these people never honest with each other? But I also kind of liked that the romance took a backseat in Ace of Shades because this book was not about finding the love of your life. It was about finding your mother, your family, your money. So even though I was reading this and going just kiss already, I also really liked how the romance was handled.
4) The City of Sin was great
I really liked the world building in Ace of Shades. It was incredibly immersive, and I think part of that is because we were able to see the city through the eyes of someone who had never been there before, and the eyes of someone who had been living there for quite some time.
I don't want to say too much about the world building because I think it's best discovered alongside Enne, but I will say that it was unique and creepy and very dark. And I liked it a lot. *sunglasses emoji*
5) I'm excited for the sequels *gasp*
I am not inclined towards embarking on new series endeavours. I have too many series that I need to complete to make starting a new one anything but a little painful. But I honestly cannot wait to see where the story of Ace of Shades goes next. I can't wait to get back to Levi and Enne, and the City of Sin. Colour me intrigued.
© 2018, Chiara @ Books for a Delicate Eternity. All rights reserved.
trigger warning

death of adopted mother, reference to murder of mother, regicide, reference to multiple murders, torture, murder of friend (fire), physical assault, poisoning, multiple graphic murders, physical fights (graphic + burns), paedophilic themes, reference to bullying, forced drug use (in drink)

Posted on: April 17, 2018 • By: Chiara