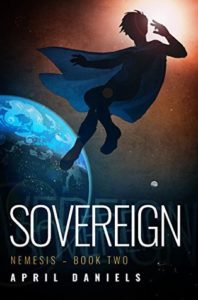 What: Sovereign (Nemesis #2) by April Daniels
Who: Diversion Books
When: July 25th 2017
How: A copy of this novel was provided by Diversion Books for review via Net Galley.
Only nine months after her debut as the superhero Dreadnought, Danny Tozer is already a scarred veteran. Protecting a city the size of New Port is a team-sized job and she's doing it alone. Between her newfound celebrity and her demanding cape duties, Dreadnought is stretched thin, and it's only going to get worse.

When she crosses a newly discovered billionaire supervillain, Dreadnought comes under attack from all quarters. From her troubled family life to her disintegrating friendship with Calamity, there's no lever too cruel for this villain to use against her.

She might be hard to kill, but there's more than one way to destroy a hero. Before the war is over, Dreadnought will be forced to confront parts of herself she never wanted to acknowledge.

And behind it all, an old enemy waits in the wings, ready to unleash a plot that will scar the world forever.
I really loved Dreadnought. Which is why I'm sad that I didn't love Sovereign. I liked it. I liked it quite a bit, but it just didn't live up to Dreadnought for me.
I think one of the reasons why I didn't fall in love with Sovereign like I did with Dreadnought is because it has a lot more focus on the superhero side of things. One of the aspects I loved so much in the first book of this duology was the focus on Danny as a character, and her relationships with the people around her. Because Danny's character and her relationships were mainly set up already in the first book I guess there was less of a focus on those aspects in Sovereign. And I sorely missed them.
Danny was a little more hot-headed in this book. I loved her for all her vulnerabilities in the first book so I suppose I missed that aspect of her personality in Sovereign. There were moments of vulnerability, with Calamity and Doc, but I just would have liked to see her retain some of that softness while she grew as a person and character.
As I mentioned before, there was a much bigger focus on the superhero and action aspects of the story in Sovereign. While I can appreciate the time and effort put into these kinds of scenes I don't always enjoy them a lot – even in superhero movies these scenes are not my favourite. I think fans of big action sequences will definitely enjoy this element of Sovereign because they were incredibly well done and planned out.
The romance between Danny and Calamity was hands down one of my favourite things about Sovereign. I think they are such a cute couple, and even though they don't always get along (mainly because of misunderstandings) I love how they are there for each other no matter what. There was one scene in particular that I really loved where Danny and Calamity are in the park together. It was just so sweet and I really liked it.
There were a lot of new characters and places introduced in Sovereign, but it never felt like an overload, which was great. Some of the new characters were ones you can love, and some of them are ones you can hate. I still hated Graywytch, for the record.
Overall, Sovereign was a pretty solid conclusion to the Nemesis duology. I am quite sad that I didn't fall in love with it as I hoped I would, but I would still recommend reading it if you enjoyed Dreadnought.
© 2017, Chiara @ Books for a Delicate Eternity. All rights reserved.
trigger warning: transmisia, use of ableist language, homelessness, reference to suicidal ideation, reference to injuries causing brain damage/paraplegia/loss of limb (arm), murder via fire, explosions, attempted murder, physical assault, reference to domestic abuse, execution, sedative use (forced), misgendering, hostage situation, torture, depictions of gore, graphic fights, use of teargas, self harm, abduction, night terrors, gunfights, drowning (non-fatal), mass murder, and false imprisonment in this novel

Posted on: July 28, 2017 • By: Chiara