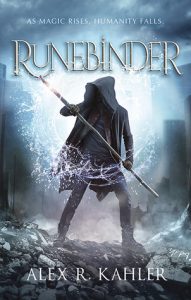 What: Runebinder (The Runebinder Chronicles #1) by Alex R. Kahler
Who: Harlequin Teen Australia
When: December 2017
How: A copy of this novel was provided by Harlequin Teen Australia for review.
Magic is risen.

Three years have passed since magic destroyed the world.

Those who remain struggle to survive the humanoid monsters called Howls roaming the streets. The Hunters fight back with steel and magic, doing their best to protect what remains of humanity. They have used their elemental magic to keep the Howls at bay, but it's never been enough to truly win the war. Humans are losing.

Tenn is one such Hunter, fighting for everything he once had, and for everything that could still be. With other Hunters, including his longtime crush, Jarrett, he struggles to find balance in a world of chaos.

But when Tenn falls prey to Tomás, one of the six original and strongest Howls in existence, he realises that there's more to fight for than survival. He's become the pawn in a bigger game — one with potentially devastating consequences. And if he doesn't play his part, and discover the root of his power, it could mean the end of humanity.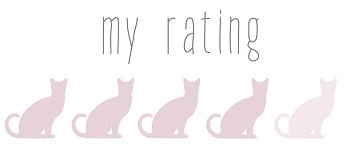 Here are four things I think you should know about Runebinder:
1) It's a queer YA fantasy
Which are quite rare, even though there are more and more popping up. It's still such an exciting thing to discover that a queer YA fantasy is heading to shelves, and when I heard about Runebinder it was no different. I was super keen for this story, and the added bonus that it's #ownvoices.
There were no labels used in Runebinder, but I believe if there were Tenn would ID as gay. He only ever thought about a future with husbands in it so I'm going to go ahead and say that this boy likes boys and probably only boys. Which was AMAZING. Having a gay teen boy at the helm of the start of what I can tell is going to be an intense fantasy series is just exciting as hell. To see a love triangle between three guys, to see Tenn struggle between the good boy and the bad boy, to read about his first crush, and his longing for a normal future with a husband and kids and a cute house. It was just EVERYTHING. Every. Thing.
2) It's set in the real world
Runebinder is set in a future where magic came into the world and everything pretty much went to shit. I thought the world building was on point. I loved the way Kahler weaved the information into the story so naturally instead of just info-dumping and being 'done' with it. Another great thing is that I learned more about the world as Tenn learned more about it, which felt like I was really going on the journey with him.
The only thing I was a little confused over were the terms used for the evil magic people. I understood what most of them were, but couldn't quite grasp the difference between two of them. Keep in mind that I read an ARC of this, though, so that could have been cleared up in the final book. And besides, it didn't have any real impact on my enjoyment of the book, it was just more of a narrowed-eye moment when I couldn't figure out which was which.
3) The first few chapters were a little hard to get into
I'd say about the first three chapters weren't as gripping as they could have been. As a reader, you're thrown straight into Tenn's world without any kind of preamble. Also, a lot happens in those chapters. I was worried that the rest of the book would have that same feeling of not being able to connect to the story but it certainly disappeared for me. By about the fifth chapter or so I was used to the world and the writing, and by the second half of the book it was in my precious kind of territory so it was definitely worth it to push through.
4) It kind of felt like a trilogy in one book
Which I don't think was a bad thing at all. The book is divided into three parts, so maybe that's why? I often feel like books that are broken up into parts are only done so for dramatic effect and I can never really tell why there are parts. But the parts in Runebinder are really distinct in terms of story, setting, and character development.
–
Overall, I really enjoyed Runebinder! It certainly lived up to my excitement for it as a queer YA fantasy. I really hope that it does well because I would absolutely love to see where Tenn's story takes him, and who he becomes. If you're looking for a fresh new fantasy with a queer main character then I point you in the direction of Runebinder.
© 2017, Chiara @ Books for a Delicate Eternity. All rights reserved.
trigger warning

trigger warning: homophobia/misia, animal death, animal hunting, multiple graphic murders, graphic fights, depictions of gore, torture, death of parents, mass murders, suicide, suicidal ideation, use of ableist language, multiple deaths, deaths of family members, deaths of friends, and dubious sexual consent (character under the influence of incubus)

Posted on: December 8, 2017 • By: Chiara