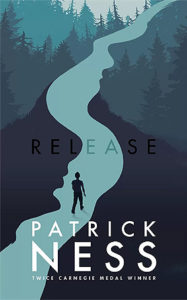 What: Release by Patrick Ness
Who: Walker Books
When: May 4th 2017
How: A copy of this novel was provided by Walker Books Australia for review.
Inspired by Mrs Dalloway and Judy Blume's Forever, Release is one day in the life of Adam Thorn, 17. It's a big day. Things go wrong. It's intense, and all the while, weirdness approaches…

Adam Thorn is having what will turn out to be the most unsettling, difficult day of his life, with relationships fracturing, a harrowing incident at work, and a showdown between this gay teen and his preacher father that changes everything. It's a day of confrontation, running, sex, love, heartbreak, and maybe, just maybe, hope. He won't come out of it unchanged. And all the while, lurking at the edges of the story, something extraordinary and unsettling is on a collision course.
Release is a very particular kind of book, and I think people are either going to LOVE it, or kind of just… not get it. I would really love to say that I fall into the LOVE category, but sadly I fall more into the 'don't get it' one.
This book is told from two perspectives over the course of one entire day. I absolutely loved the pacing of this book. Sometimes a whole day in a book consists of one singular conversation, and I am always left wondering what the heck happened the rest of the day. But with Release, there was none of that because it was just one day. This could have possibly gone terribly wrong, but it didn't. It felt real, and there were some flashbacks given to provide context for relationships, which was a nifty way to keep to the one day timeline.
I didn't love the main character, Adam. And I think that's the main reason that I didn't love Release as a whole. I was waiting to fall in love with his character – I was waiting for that emotional connection. But neither of those things came. Which isn't to say that I didn't care about him because I did. But I just wasn't standing by the sideline waving 'Adam' banners and screaming. I was more of a casual passerby.
The times in which I felt most connected to Adam were when things were going to shit. I loathed his family – they were a bunch of horrible asshats. And when his father was being homophobic and disbelieving Adam when he said he was being sexually harassed by his boss at work I was livid. But I am always livid when queer characters have to deal with this bullshit, especially from their parents.
I think the fact that Adam went through a lot of personal changes and character growth over one day. It never felt unrealistic or rushed, which was pretty amazing considering the timeline. I mean, sometimes you get to the end of the book and three months have passed in its pages and the character is still exactly the same. But Adam grew so much. I was proud of him for being honest, for being himself, for being brave. And for realising who was worth his time and love, and who wasn't.
The other POV in Release was that of the faun, which is where all the paranormal elements come in. I liked these to an extent, but I was never fully invested in them. The world apparently will go to hell if the resurrected dead girl/queen of the fairy realm doesn't go back to said realm before sunset. I didn't feel this urgency, though. Maybe because half the book was just so contemporary, and then this magical half was happening just outside of everyone's perception. I'm not sure. I did like the faun, though. He was a pretty soft character, and I liked how much he cared about his queen, and how hard he tried to… well, kind of save the world, I guess.
I have a feeling that people who love weird books will love this. I wish I had, honestly. I think the execution was great. I love Patrick Ness's writing style. The fact that he filled the day with so much without making it feel unrealistic was an incredible feat. The relationships were complex and nuanced. There were a lot of things to like about it, but it just didn't quite hit the mark for me.
I think if you're a big Patrick Ness fan then you need to read this book. If you're looking for a book that's quite unlike anything else you've ever read then you need to read this book. If you loved Mrs Dalloway or Forever then obviously you need to read this book.
© 2017, Chiara @ Books for a Delicate Eternity. All rights reserved.
trigger warning: homophobia, graphic depiction of murder (strangulation/drowning), drug addiction, use of ableist language, sexual harassment + blackmail in the workplace, graphic depictions of dismembering, murders, and possible self harm (intention unclear) in this novel

Posted on: May 19, 2017 • By: Chiara