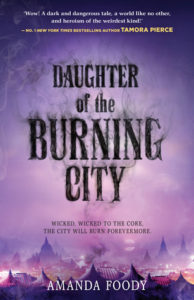 What: Daughter of the Burning City by Amanda Foody
Who: Harlequin Teen Australia
When: July 25th 2017
How: A copy of this novel was provided by Harlequin Teen Australia for review.
A darkly irresistible new fantasy set in the infamous Gomorrah Festival, a traveling carnival of debauchery that caters to the strangest of dreams and desires.

Sixteen-year-old Sorina has spent most of her life within the smoldering borders of the Gomorrah Festival. Yet even among the many unusual members of the traveling circus-city, Sorina stands apart as the only illusion-worker born in hundreds of years. This rare talent allows her to create illusions that others can see, feel and touch, with personalities all their own. Her creations are her family, and together they make up the cast of the Festival's Freak Show.

But no matter how lifelike they may seem, her illusions are still just that—illusions, and not truly real. Or so she always believed…until one of them is murdered.

Desperate to protect her family, Sorina must track down the culprit and determine how they killed a person who doesn't actually exist. Her search for answers leads her to the self-proclaimed gossip-worker Luca, and their investigation sends them through a haze of political turmoil and forbidden romance, and into the most sinister corners of the Festival. But as the killer continues murdering Sorina's illusions one by one, she must unravel the horrifying truth before all of her loved ones disappear.
This is probably one of the most solid three star ratings I've ever given. And please keep in mind that three stars for me is definitely in the realm of 'I liked it'. It just isn't in the realm of 'I loved it', and here are four reasons why:
1) The world building
I felt like some aspects of the world building were great – Gomorrah itself was pretty well developed, and the parts that weren't were only that way because Sorina hadn't actually explored them herself so the first person POV couldn't account for those aspects. However, there was a bit to be desired when it came to the world building of the world Gomorrah was actually in.
When the plot took quite a political turn I felt like there wasn't enough behind it for me to be intrigued by it or invested in it. Because Gomorrah operated under its own jurisdiction the whole Down Mountain and Up Mountain aspect just didn't feel important, especially when there were no real personal stakes involved.
2) The characters didn't feel fleshed out enough
Which isn't to say I didn't like them because I was actually quite a big fan of most of the characters, but I also felt like there was something missing. Even in terms of the MC, Sorina, I just didn't feel that connection to her and she didn't feel quite three dimensional enough.
Sorina's illusions were all amazing, and I loved the idea of them, but they just didn't have enough page time. As readers I suspect we were supposed to care a lot about the fact that someone was killing them off, and even though I found it horrible I didn't feel the emotion because these illusions were given so little time to develop as characters, and there wasn't enough establishment of their relationship to Sorina and each other.
3) The plot
At times it moved quite quickly, and at others it felt like nothing was happening.
I mentioned before that there was a political storyline involved, and I honestly felt like this came out of nowhere and held no real importance to the overall plot. I suppose there was some connection, but there was quite a bit of time towards the end spent on this storyline which I felt wasn't connected enough to the killing off of Sorina's illusions to hold my interest.
I'm usually a big fan of political intrigue but this really came out of nowhere for me, and wasn't even really directly related to Gomorrah so I was left wondering why I should care about it.
4) The ace- and aromisia and ace/aro rep
Luca, Sorina's love interest, is stated to be demisexual or demiromantic/asexual by the author. At first I was really excited about that, but every time a character spoke about Luca they would mention his ace/aro-ness as something inherently bad. I wasn't a huge fan of this because it a) seemed unnecessary, and b) was never addressed in the text. These characters just said this awful stuff about Luca's identity and it was just left at that.
Furthermore, I found it quite difficult to actually ID Luca, and had to google the author and whether she had explicitly defined his identity. To be honest, I'm not the biggest fan of relying on an author's word for a character's identity. I much prefer it to be stated and explained in text because then it's truly canon and explicit rep. There were about two conversations in which Luca spoke to Sorina about his identity and they were very fumbled and vague. I don't know whether that was intended (like Luca didn't really understand his own feelings, which is 100% okay) or whether it was just a subpar explanation and exploration on behalf of the author.
Either way, the ace- and aromisia, and the lack of explicit rep and exploration of Luca's identity was not so great for me.
~
Something I really liked was that there was quite a bit of queer rep. Sorina is bisexual (although the word was never used on page – however I have seen on the author's Tumblr that the final copy does have a passage that explores her bisexuality that wasn't in the ARC I read), her older sister illusion is a woman loving woman (again no ID use), and then there's Luca's demisexuality/demiromantic-asexuality.
Sorina's bisexuality and her sister's attraction to women were seemingly accepted by the Gomorrah community, which was lovely to read about, but also made me question why Luca's identity was not.
~
Overall, I did enjoy Daughter of the Burning City; there were just aspects that prevented me from really falling head over heels. I would recommend this book, though, because a standalone fantasy with a bisexual MC and other LGBTQIA+ characters is something that we don't get very often.
© 2017, Chiara @ Books for a Delicate Eternity. All rights reserved.
trigger warning: police raid, ableism, torture, terminally ill mother, beheading, accident resulting in broken leg, use of ableist language, sex worker discrimination, murder of infant brother (drowning), murder of uncle (suffocation + stabbing) with graphic aftermath, thievery, acemisia, aromisia, death of a father, attempted murder, abduction, and reference to slavery in this novel

Posted on: August 11, 2017 • By: Chiara