Five Reasons To is basically my way of convincing you to love the same things I do. Because I love a lot of things for a lot of reasons. Hopefully my powers of persuasion will work their magic on you, and you can find new things to love!
Today, I am going to give you five reasons to:
Watch Kubo and the Two Strings

1. The Animation

(source)
Stop motion animation is my FAVOURITE kind of animation, and it's always so exciting when a movie is made like this because I feel like they're getting so rare *cries* Kubo and the Two Strings incorporated stop motion and the usual 3D-ish kind of animation (which was mainly for backgrounds), and they worked really beautifully together. I especially liked this scene because it is just so simply gorgeous. Marvel at it.
2. The Storyline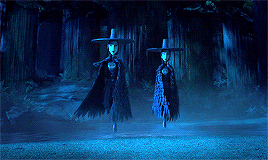 (source)
To watch a kid's movie, I have to be in a really particular mood because the storytelling is so different to movies meant for an older audience. They usually feature a super typical villain who is nefarious just because, which is not a trope I particularly like. The storyline in Kubo, however, is so complex. When I finished it, I turned to my mum and I said: that was an animated adult film. And it is very much like that. There's no "kiddy" aspect to the story, even though the main character is a kid. The villains are great, and have agency, and are nefarious for a reason, too. And also super pretty in a creepy way.
3. The Messages

(source)
I mentioned just above that I felt like Kubo was an adult film that just happened to be animated, and a lot of that has to do with the messages that are woven into the story. Family is a huge element to the film, and the different ways in which it is presented are beautiful. It focuses on blood family, and found families, as well. There's messages of forgiveness, and the different meanings of strength, and creativity. There are so many beautiful things to gain from watching Kubo.
4. The Humour

(source)
It is actually ridiculously hard to make me laugh when I'm watching something. But, when I was watching Kubo I was laughing all the time (except when I was crying). My mum even said to me that she's never seen me laugh so much in a movie before. So that is some high praise right there. The humour is cute, and down to earth, and I loved it a lot.
5. This Preciousness

(source)
Damn it, I love this child. I don't think I've ever watched a movie with a kid protagonist before and liked them so much. I want to protect my son. I want my son to be happy. EVERYTHING FOR MY SWEET, SOFT SON.

So these are five reasons for you to watch Kubo and the Two Strings! This movie is hands down one of my favourites of all time, and I hope I have convinced you.
Ta ta for now,

Posted on: April 25, 2017 • By: Chiara