Five Reasons To is basically my way of convincing you to love the same things I do. Because I love a lot of things for a lot of reasons. Hopefully my powers of persuasion will work their magic on you, and you can find new things to love!
Today, I am going to give you five reasons to:
Read the Because You'll Never Meet Me Series by Leah Thomas

1. The Voices

There are times when you read books with dual POVs and they're hard to distinguish and you end up thinking that you've read an entire chapter from one character's POV but then BAM you were wrong. There is absolutely none of that in the Because You'll Never Meet Me books. The voices of Ollie and Moritz are so very distinct. From each other, and from any other books I've ever read.
2. The Friendship (and more than friendship)

When I read Because You'll Never Meet Me I was convinced that Ollie and Moritz were going to fall in love. And that did kind of happen because Moritz fell in love with Ollie (and I read that particular letter approximately five times, obviously). In Nowhere Near You I had hopes that Ollie would realise what a precious cinnamon roll Moritz is and fall in love with him. Did this happen? Well, I know. But you have to read the books to find out.
3. The Genre Bending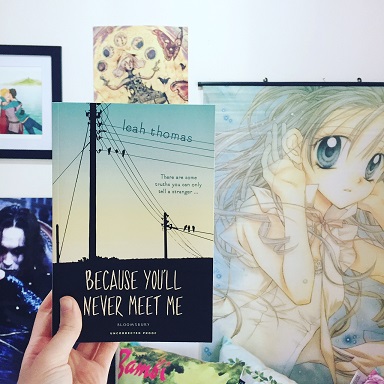 When I read Because You'll Never Meet Me I didn't know whether to classify it as contemporary or sci-fi because it fit into both genres. The world and the setting are very contemporary, as is the way the characters talk and the things they see and do. But the history of the boys, and some of the things that happen were almost too out there to be classified as contemporary. The sequel errs more on the side of sci-fi, but there are still so many contemporary elements that it still breaks genre boundaries like its predecessor.
4. The Covers

You can 100% love a series for their covers. And I really do so love these covers. Can you tell? Probably. I love the handwriting-esque font, and the silhouettes of everything. And once you read these books the pictures on both covers will make all the more sense to you. And you'll think they're even prettier for it.
5. The Boys

It has been quite some time since I've fallen so head over heels for book characters. It actually takes a lot for me to really and truly love them. Sure, I can love them in passing, when I'm reading about them. But it takes that little bit more for me to love them all the time when I'm not just reading the book. And Ollie and Moritz are those kinds of characters. They feel so real, and I want so much happiness for them. I adore them a lot. They are my soft sons. I really and truly hope that there is a third book in the works because I can't go on without more Ollie and Moritz in my life *gross sobbing*

So these are five reasons for you to read the Because You'll Never Meet Me series! I hope I have convinced you.
Ta ta for now,

Posted on: April 11, 2017 • By: Chiara