Books for Thought is where I post a discussion topic related to books, reading, writing, or something pertaining to one of the three. I hope you'll join in, and discuss today's topic of
diverse comic books i love
I have always been a manga reader, but last year I started getting into comics and graphic novels, as well. They are incredibly different in both story progression, narrative style, and art but I really like them both (manga will always be #1 but shhh). I gravitate towards comics (and graphic novels, but from here on in I'll just say comics) that are diverse in some way, just like I gravitate towards novels that are diverse. So I thought I'd share some of my favourite diverse comics that I've read. Hopefully you find one (or more) to add to your TBR!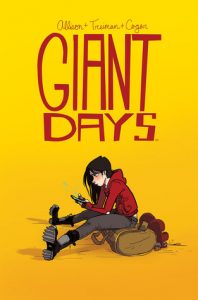 Diversity: Lesbian protagonist (who is possibly biracial, her grandma is black)
I only just read Giant Days volume one recently, but I really enjoyed it! It's about three girls who are best friends in their first year of college. There were a lot of humorous storylines and scenes, which I enjoyed! I'm not one for laughing out loud but Giant Days did that for me. I loved seeing how the girls supported each other, cared about each other, and made sure the others were okay. I love reading about amazing friendships like these, and even though the girls were so different to each other they loved one another for that and completely accepted their differences. I am very keen to keep reading this series!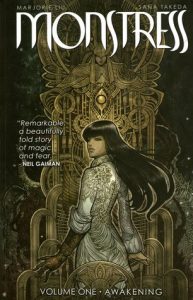 Diversity: Asian protagonist
I had heard a lot of good things about Monstress so I'm really glad I enjoyed this one! It's a lot more heavy-going than the comics I usually read, but I think once I got used to it I was able to enjoy it more. I definitely want to read volume two because threads of different storylines were introduced in the first volume, and I'm keen to see where Maika ends up in the world. I would say more but I think this series is one best read when you discover everything for yourself!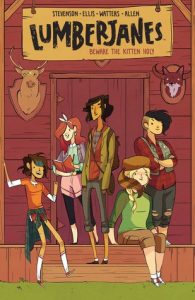 Diversity: POC trans protagonist, lesbian protagonists, Latina protagonist
To be honest I would be very surprised if anyone reading this didn't know about Lumberjanes! It was one of the first comics I read and I love it. The diversity is incredible, although the explicit rep for some of the characters doesn't happen until later volumes. The characters are adorable, and it is all about AWESOME GIRL FRIENDSHIPS which is something I am passionate about. The storylines are incredibly weird but I think that's part of what makes this series so special. You never know what you're going to get.
Diversity: Latina protagonist
Ghosts was a sweet and sad story about a family that moves to a new town because the air is better for their daughter's lungs (she has CF). The story centres on the older sister, Catrina, as she explores the new town. She hears that there are ghosts and desperately wants to meet them. The scenes during the Day of the Dead were really touching, and the way the ghosts were drawn was so lovely! I really enjoyed this story, and loved the relationship between Catrina and her little sister, as well as the supportive parents they had in their lives.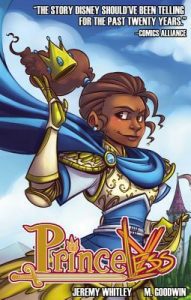 Diversity: Black protagonist
I really loved the beginning of this series, and even though my enjoyment waned a bit with the subsequent issues I still recommend it! It's about a black princess doing it for herself, and saving her sister princesses (even if sometimes they don't want it). There's an adorable dragon, great girl friendship, and some pretty nice art in there, too.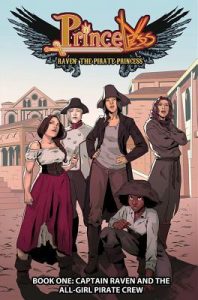 Princeless: Raven the Pirate Princess
Diversity: Asian lesbian protagonist

I loved this! And I am so, so sad that my library only has volume one because I really want to continue the series! If you read Princeless first, you'll meet Raven in one of the volumes so you get to know a little bit more about her before diving into her own series. I love pirates and found families and this has both, with the added bonus of the MC being lesbian and Asian. My heart is so happy *sobbing*
Diversity: Pakistani Muslim protagonist
YOU NEED TO READ THIS. It's just awesome in so many ways. The fact that Kamala is a Pakistani Muslim teen girl who is also a freaking superhero is everything. There are cameos from some of your fave Marvel heroes, like Wolverine and Iron Man – and there's even an appearance from Loki, who is a total hipster in this universe. There are so many fun things to love about this series, but I also like the fact that a lot of the volumes have an underlying message too (like the importance of voting, online harassment, finding a balance between work and school and having a life etc.) I'm so glad that volume four wasn't the end of this series, and I highly recommend it!

What about you? What are some of your favourite diverse comics? Send me your recs!

Posted on: October 27, 2017 • By: Chiara