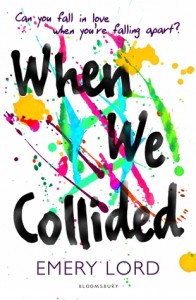 What: When We Collided by Emery Lord
Who: Bloomsbury Children's
When: April 7th 2016
How: A copy of this novel was provided by Bloomsbury Australia for review.
Meet Vivi and Jonah: A girl and a boy whose love has the power save or destroy them.

Vivi and Jonah couldn't be more different. Vivi craves anything joyful or beautiful that life can offer. Jonah has been burdened by responsibility for his family ever since his father died. As summer begins, Jonah resigns himself to another season of getting by. Then Vivi arrives, and suddenly life seems brighter and better. Jonah is the perfect project for Vivi, and things finally feel right for Jonah. Their love is the answer to everything. But soon Vivi's zest for life falters, as her adventurousness becomes true danger-seeking. Jonah tries to keep her safe, but there's something important Vivi hasn't told him.

Perfect for fans of E. Lockhart and Jandy Nelson, When We Collided is a powerful story of two teens whose love is put to the test by forces beyond their control.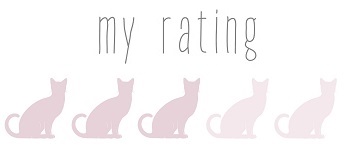 I have been bumming around not writing my review for When We Collided for quite a while now. Not because I don't know what to say about it, but because I am not quite sure how to articulate them.
When We Collided is told through two perspectives: Vivi and Jonah.
Vivi has bipolar disorder. Which is where the difficulty in writing this review comes in. Because, you see, I didn't particularly like Vivi. I felt that her bubbly rainbows, sunshine, and lollipops attitude at the beginning of the novel was a little overbearing at times. And later on, when she was jealous of Jonah for simply speaking to his lifelong best friend (who happened to be a girl), when she was all about the sex and not at all about the emotion behind it, and when she was doing stupid, dangerous shit … I really didn't like her.
My ambivalence towards saying that I didn't like Vivi much at any particular point in time in When We Collided stems from the fact that a lot of her actions were most likely influenced by the fact that in the time we get to know her, Vivi is heading towards a manic episode. So I feel uncomfortable saying that I don't like her when the actions that I did not like or appreciate in her character were influenced by her mental health. I certainly don't judge her for the actions that were influences by factors out of her control. But Vivi as a character in general was not one that I warmed to on the whole.
Jonah, on the other hand, I did like. Not all too much, because I felt like a lot of the time he was too perfect, and also too passive. I did love the fact that he held his family so close to his heart, and was willing to do pretty much anything for them. Jonah, I feel, could have done more to learn about who Vivi actually was, rather than just being drawn to her bubbly personality and frivolity. When her moods plummeted and when she seemed overall different, he shouldn't have just gone with it. I wanted more from Jonah.
I have to say I wasn't a fan of how he thought about and treated his mother. Yes, she's not providing for her family or taking care of it the way she should be after the death of her husband, and her children's father.  But she's also depressed. And Jonah just continually dismisses her. Instead of talking to her about what's going on with her mental health, he talks to everyone but her. Instead of seeing her strength in doing the little things, he ignores them completely. So yeah, not keen on that aspect of his personality.
I loved that both Vivi and Jonah had a passion. Vivi loves art and clothes and fashion. Jonah loves food and cooking. I really love it when characters have passions like these because I feel like they just add a lot more to the "realness" of them.
Overall, When We Collided was a story about two people who meet over the summer and are different people by the end of it. In all honesty, I would have loved more closure on a few things, but I guess that's life. Things are left open, and you never know what happens to people after you leave them.
trigger warning: medicated depression and bipolar disorder, depressed parent, depressed sibling, absent parent, death of a parent via heart attack, self harm, psychiatric hospitalisation, and mention of loss of family via car accident in this novel
© 2016, Chiara @ Books for a Delicate Eternity. All rights reserved.

Posted on: May 10, 2016 • By: Chiara