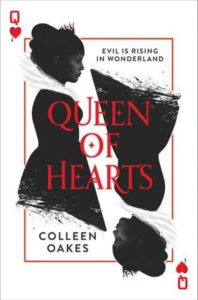 What: Queen of Hearts (Queen of Hearts Saga #1) by Colleen Oakes
Who: HarperCollins Children's Books
When: May 5th 2016
How: A copy of this novel was provided by Harper Collins Australia for review.
As Princess of Wonderland Palace and the future Queen of Hearts, Dinah's days are an endless monotony of tea, tarts, and a stream of vicious humiliations at the hands of her father, the King of Hearts. The only highlight of her days is visiting Wardley, her childhood best friend, the future Knave of Hearts — and the love of her life.

When an enchanting stranger arrives at the Palace, Dinah watches as everything she's ever wanted threatens to crumble. As her coronation date approaches, a series of suspicious and bloody events suggests that something sinister stirs in the whimsical halls of Wonderland. It's up to Dinah to unravel the mysteries that lurk both inside and under the Palace before she loses her own head to a clever and faceless foe.

Part epic fantasy, part twisted fairy tale, this dazzling saga will have readers shivering as Dinah's furious nature sweeps Wonderland up in the maelstrom of her wrath.

Familiar characters such as Cheshire, the White Rabbit, and the Mad Hatter make their appearance, enchanting readers with this new, dark take on Alice's Adventures in Wonderland.
Things I Liked:
1) The world.
The world in Queen of Hearts is quite different to any other Wonderland that I have read about. Most likely because it focuses on just Heart Castle, and what happens in there and in the immediate city surrounds. It was quite interesting to see this more tame (in a way) version of Wonderland, and I found myself enjoying seeing a new side to the place I have grown to know so well.
2) Dinah.
I certainly didn't adore her, but I did want things to end up in a positive way for her. It's also sad knowing that she turns into a heinous banshee at some point in the series and her life.
3) The nods to the original story.
It seems as if Queen of Hearts is somewhat of an alternate version of Wonderland, even though it focuses on a character in the original story. What I mean by this is that Cheshire is the king's right hand (seedy as hell) man, the White Rabbit is Dinah's tutor, and that the Mad Hatter is actually Dinah's brother (bless his cotton soul). I thought that these were an interesting way to weave original characters into a new version of the story.
Things I Didn't Like So Much:
1) The romance.
I knew from the get go that Wardley was never going to actually be in love with Dinah. Even though he is only on the page with Dinah's half sister once, I already knew that she was the person he was in love with, not Dinah. I didn't really mind because I wasn't the hugest fan of him, anyway. I just hope that Wardley not being in love with Dinah and instead being in love with the sister she hates is not the catalyst for her turning evil. That would be shit.
2) Dinah's father + his actions.
I really loathed Dinah's father, and the way he physically and emotionally abuses her throughout the entire novel. He dotes on Vittiore (the half sister) in an extreme way, and treats Dinah really awfully. I didn't enjoy reading this, and I didn't feel as the issue and its effect on Dinah were explored well enough, either.
3) The plot.
I never truly felt a sense of urgency to the plot until the end of the novel, when Dinah is on the run. The rest of it is pretty much Dinah trying to unravel a mystery – but what that mystery is … I still don't know. I'm hoping that both these elements will be improved upon in the second book.
~
Overall, I did end up enjoying Queen of Hearts. While it wasn't perfect, I am certainly willing to keep reading the series as I think the evolution of Dinah's character will be an interesting one to see unravel.
© 2016, Chiara @ Books for a Delicate Eternity. All rights reserved.
trigger warning: domestic violence, torture, ableism (mentalism), rape, and prison violence (guard-inmate) in this novel

Posted on: August 19, 2016 • By: Chiara