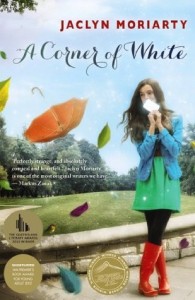 What: A Corner of White (The Colours of Madeleine #1) by Jaclyn Moriarty
Who: Pan Australia
When: January 1st 2014
How: A copy of this novel was provided by Pan Macmillan Australia for review.
Madeleine Tully lives in Cambridge, England, the World – a city of spires, Isaac Newton and Auntie's Tea Shop.

Elliot Baranski lives in Bonfire, the Farms, the Kingdom of Cello – where seasons roam, the Butterfly Child sleeps in a glass jar, and bells warn of attacks from dangerous Colours. They are worlds apart – until a crack opens up between them; a corner of white – the slim seam of a letter.

Elliot begins to write to Madeleine, the Girl-in-the-World – a most dangerous thing to do for suspected cracks must be reported and closed.

But Elliot's father has disappeared and Madeleine's mother is sick. Can a stranger from another world help to unravel the mysteries in your own? Can Madeleine and Elliot find the missing pieces of themselves before it is too late?

A mesmerising story of two worlds; the cracks between them, the science that binds them and the colours that infuse them.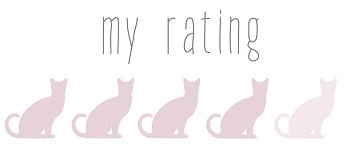 A Corner of White would have to be one of the most whimsical and unique books I've ever read.
From the moment I started reading this book I knew it was going to be for me. The writing style is incredibly lyrical, and all 'round lovely. And I connected with it straight away.
And then everything started happening. I was introduced to Elliot, for one. And that was pretty much the best thing ever. A Corner of White is told (mostly) from two third person perspectives – Madeleine's and Elliot's. Elliot is pretty much the most loveable character ever. He's so incredibly sweet and determined, and I just fell in love with him straight away. Whenever I was reading Madeleine's chapters, I immediately wanted to go back to Elliot's.
Which isn't to say that I didn't enjoy Madeleine's chapters, because I did. She's an incredible enjoyable character to read about, and I felt for her situation quite a bit. Even though she didn't always make the best decisions, she's only fourteen, and her questionable decisions are pretty easily forgiven. She's also very endearing, and funny, and also vulnerable at the same time.
I think what kept me interested in this novel the most was the interaction between Madeleine and Elliot. I thought the whole book would be about them writing letters to each other, but that's not really the case. Yes, they do write to each other, but a lot of the novel is what is going on in their own lives outside of the letters. I suppose I did want more of a connection between Madeleine and Elliot throughout the book, but that did come up more towards the end than anything.
Have I mentioned that I ship it? And that I am also scared to because this is lower YA and ships aren't as prominent? Ah, well. A girl can hope, I suppose.
One thing that I found particularly interesting about A Corner of White was that the fantasy world that Elliot lived in was really quite similar to ours, but with fantastical and weird elements mixed in. I mean, they had cars and TVs and police stations and fax machines. So it was all kinds of awesome to read about a world like ours … but not like ours at the same time. I don't think I've ever read a novel quite like this one before.
Quite a number of important things happened towards the end of the book, and I have to say that I am so keen to read The Cracks in the Kingdom. I have literally no idea what's going to happen, and I cannot wait to find out!
If you're into lyrical prose, fantasy, and novels with a focus on character development then A Corner of White is definitely for you.
© 2016, Chiara @ Books for a Delicate Eternity. All rights reserved.
trigger warning: parent with brain tumour, murder, abduction, and cheating (romantic) in this novel

Posted on: January 27, 2016 • By: Chiara